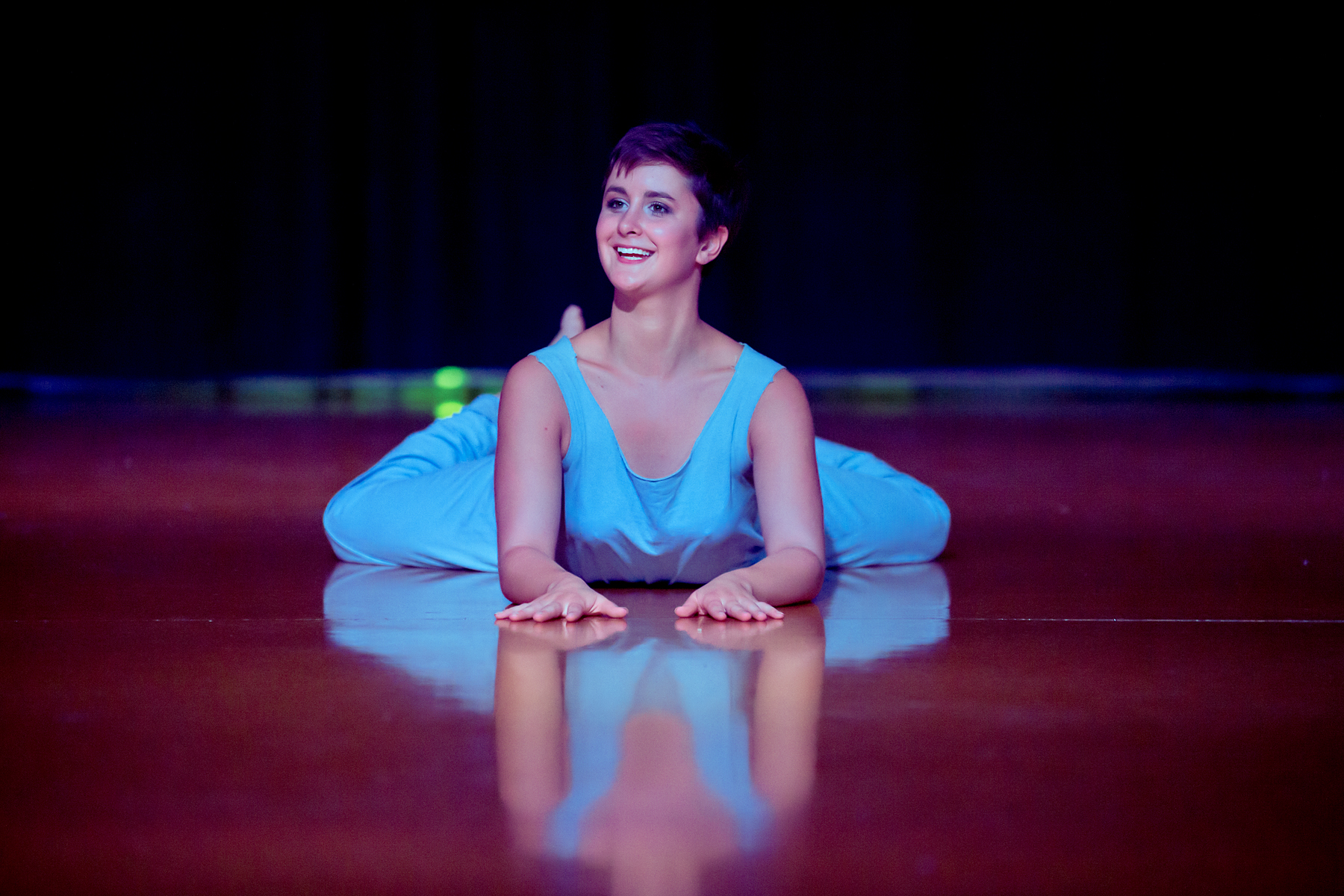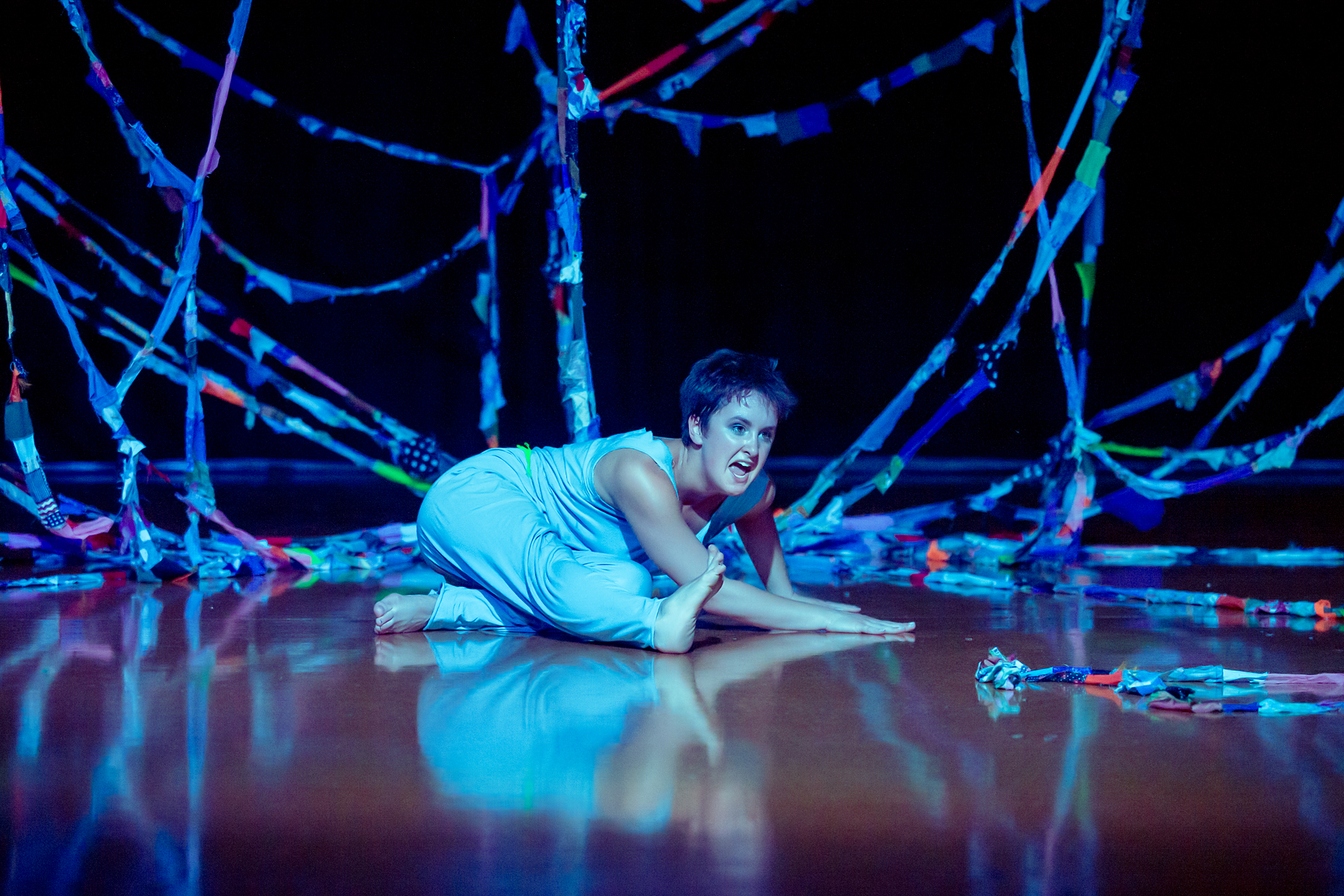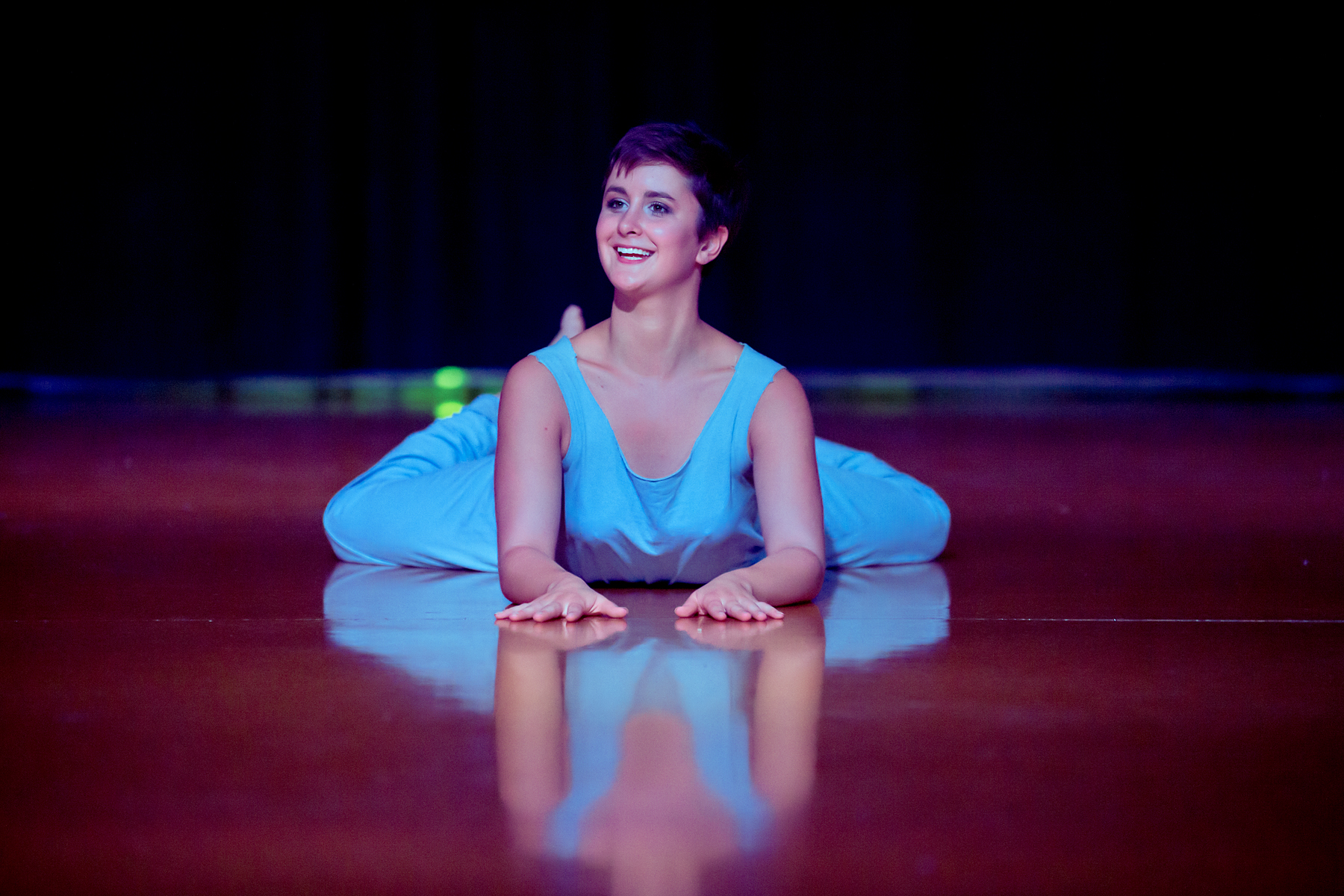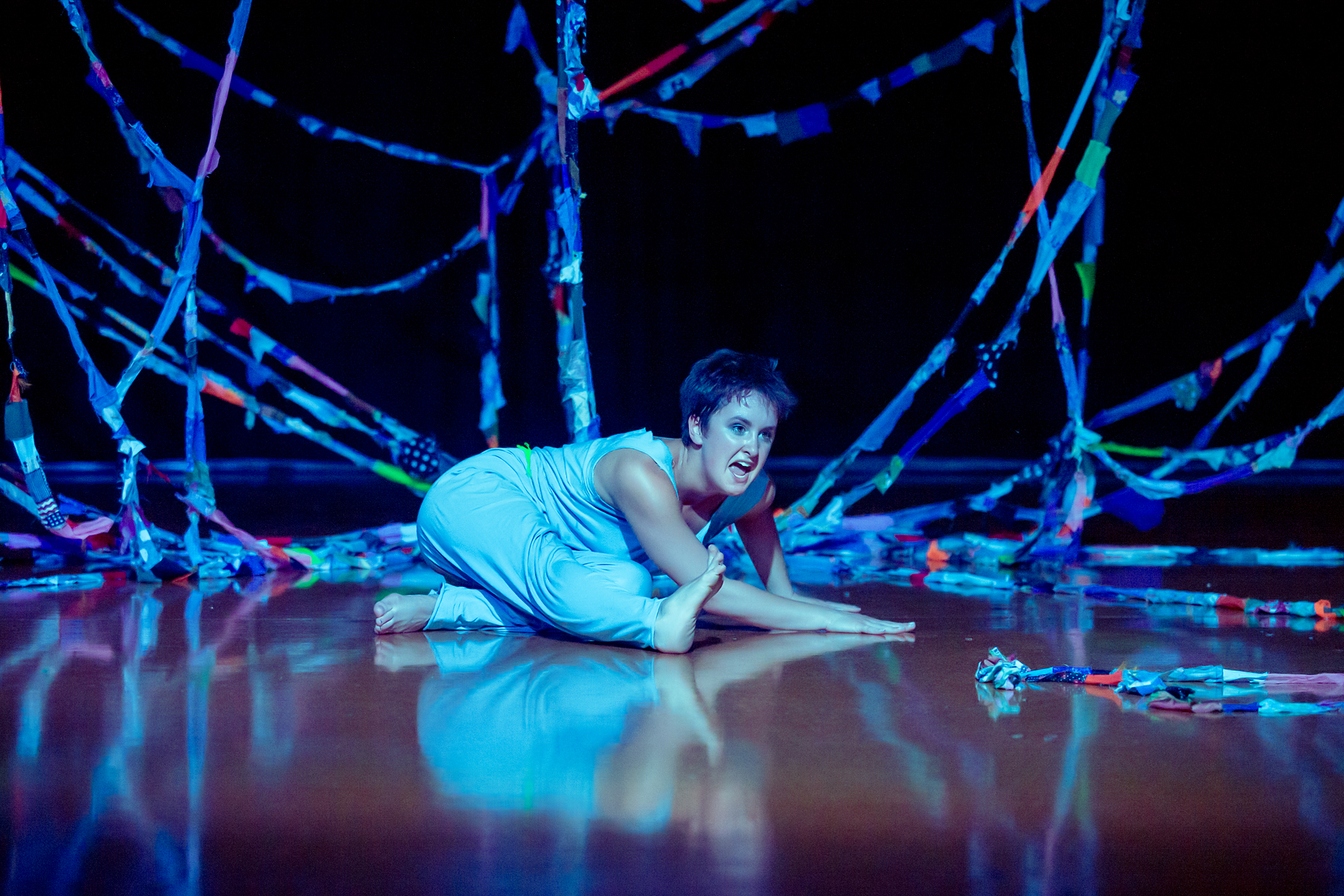 REVIEWS
Castles Review @ Adelaide Fringe 2018
Scenestr. James Murphy, 6 March 2018
★★★★★
We enter this world naked and exposed. From every subsequent experience, we must glean meaning and then peg this understanding to our psyche, with each divergent thread ultimately constructing a patchwork, a sanctuary, a refuge from life's tumult.
This is the premise that weaves through House of Sand's beautifully erratic 'Castles', which is an innovative fusion of dance, theatre, poetry and song that has garnered acclaim in New Zealand and the eastern states. It is a collaboration between siblings: Eliza Sanders, the writer and performer, and Charles, the Director.
A writhing Eliza, naked from the torso upwards, greets the audience as they enter the theatre. A few minutes of awkward silence is ultimately broken by song; a vocal tone as pure as a soloist in a church choir. It is a show of such rapid shifts and transformations. Like life, you can never quite anticipate what will happen next. Eliza uses the lyrics of modern poets such as Nick Cave, Laura Marling and Regina Spektor as the base camp for absurdist word association on the themes of queer and gender identity and their interaction with organised religion, amongst other things. The estuary where each stream of consciousness meets the sea arrives when some solace is found in an interpretation of a phrase or idea.
Eliza's words, and her dance, often contain elements of improvisation; a perpetual probing for new possibilities in a frantic search for safe harbour. In the climatic sequence, after almost an hour of frenetic energy, she is joined by a patchwork partner named Pablo, a versatile wearable puppet, which ultimately provides the comfort that she has been seeking in unexpected ways. You are left pondering the question of whether it is only through the love of others that we can find the home we are seeking, or whether it can be reached simply through the love of self?
This is not a piece that offers easy answers or even a singularly clear narrative or resolution. Like the performer on stage, the audience must piece together their own truth, which is a process that can be ultimately more powerful than any other.
 
Review: Pedal & Castles (House Of Sand)
Reviewed by Suzy Wrong, 24 Sept 2016
Suzy Goes See and Auditorium Mag (UK)
Pedal and Castles are a pairing of individual pieces that demonstrate the genius talent of Eliza Sanders, whose boundless exploration into performance and theatre creation deliver experiences that are full of joy, surprise and wonder. Amalgamating the clichéd triple threat of singing, dancing and acting, Sanders redefines the stage artist into a singular agent with capacities limited only by imagination. Her multi-disciplinary skills are showcased perfectly in both works, along with the most inventive approach to writing and choreography for a style of show that is striking for its effortless originality and distinctive sense of beauty.
These are not simply stories, but abstract expressions that find a purpose in time without the reliance on logic and narrative. In tandem with brother Charles Sanders' direction, the siblings' ability to move us, to cease our attention and connect with our emotions, without the use of anything remotely formulaic or conventional, is evidence that a purity of intention and an instinctive acuity are at play here.
Eliza Sanders' physical presence is that of a dancer's, all discipline and agility, but her personality refuses to be subservient, the combination of which results in a powerful state of being that puts on stage, the very vibrancy of life itself. Without the distraction of reason, we are in direct contact with a living, breathing and in this case, enthralling, organism, whose various representations of our complex existence, draw us into a state of sharing, listening and acknowledgement, that seems to make life that much more meaningful. Observing Sanders is to be at one with nature, and the resonance she provides, is akin to the excitement one receives when enraptured in the vision of early spring's blossoming flowers.
Where there is no need to ask why, we abandon the past and the future, to stay firmly in the now. Eliza and Charles Sanders are important artists who give us an alternate view of the world. Knowledge and experience are limitless, and in art, we can find catalysts to help us grow. The language in Pedal and Castles is not a translatable version of the familiar, but a different course of communication for arriving at somewhere new. The danger of becoming small and narrow is ever-present, but when art does its job well, we are shown the way to emancipation, and we must take every step that leads us there.
Castles: Entertaining, A Spectacle Of Words, Ideas, Sensations And Colour – Adelaide Fringe Review
The Clothesline Clayton Werner, 3 March 2018
4 stars
Pedal, an earlier piece by House of Sand is followed by Castles essentially a Pt 2. But that doesn't mean they need to be seen in order or that understanding the second relies heavily on familiarity with the first.
Castles has dance, spoken word, song, theatre and elements of visual art created in front of us. It's been designed to start slowly, Eliza inviting the audience to read what we will into her dance routines as the piece develops. Then spoken word is added; it's a chaotic play with words and sounds, irreverent, plenty of laugh out loud moments and some elements become thematic through the show. Then song as well.
Eliza Sanders is simply brilliant in terms of dance, word, expression and performance. The show's set is incredibly simple; a couple of small piles of clothes, one with a multi-purpose art piece designed into it, and a couple of ropes as clothesline, with pegs.
When the second element is hung on the line at multiple points the set is transformed – it's colourful, seemingly random and visually stunning. At this point there are some amazing dramatic scenes highlighting more of Eliza's many talents. By this point the audience was engaged strongly, laughing in fits at appropriate moments.
Castles is entertaining, a spectacle of words, ideas, sensations, colour and the audience is invited to make its own cognitive leaps in terms of meaning.
Castles
The Barefoot Review Samela Harris, 28 February 2018
4 stars
House of Sand and Holden Street Theatres. Holden Street Theatres. 28 Feb 2018
Performance art, physical theatre, dance, mime, and voice.
Eliza Sanders is all these things in a sphere of her own invention.
She opens her Holden Street show, a strong young body clad only in black briefs alone upon the black stage. She is entwining arms and legs, forcing her body into challenging contortions, her limbs seeming to be arguing with each other. It is a strange, fluid tussle.
After a while, just as one is wondering where this is going, the most ethereal sounds emerge from the writhing form. A beautiful voice, strong and pure, sings forth. And the body writhes on.
The theatre is plunged into darkness.
Lights return and there she is, dressed in light overalls.
The only set in her black world is a pair of clothes lines strung across the stage with a few colourful pegs. This is immensely effective, albeit mysterious to begin with.
Sanders, directed by her renowned brother Charles, takes her audience upon a wild voyage of sound and movement. She is uncompromisingly lithe. It is dance with acrobatics and yoga. It is pretty much everything a body can do. And it is accompanied sometimes by shrill song, very different from that initial ethereal sound, mostly a mad, manic ongoing patter of stream of consciousness.
Wild dissociative references; sometimes lists, or random thoughts, or snatches of off key song - a mind drifting, a mind racing, madness.
Sanders' movements always are skilled in the nature of one highly trained in dance, mime, maybe a bit of LeCoq.
Her energy is daunting and a bright and sweet face lives atop her gamin body.
There comes a point when she is not alone on the stage. There is a vivid patchwork thing which she adopts as a dance partner and then, oh, and then a wonderland of colour, ingenuity and imagination emerges.
It is quite the surprise and it really should be seen.
Adelaide Fringe review 2018: Castles
The Advertiser Peter Burdon, 1 March 2018
Rating: ****
HOUSE of Sand is a joint theatrical venture between siblings Eliza and Charles Sanders, she a dancer, choreographer and visual artist, he an award-winning a director and theatre maker (who, importantly, got his start in Adelaide).
Their most substantial collaboration is a duo of pieces, Pedals and Castles, both showing the Adelaide Fringe. Castles is the second, in order, but stands alone.
It is an uncompromising work, at times a full-on sensory assault, with a stream of consciousness spoken narrative — a striking contrast to the tightly wrought choreography and very impressive execution.
Eliza makes the piece her own, with strong dance skills and a solid grounding in the spoken word and in song, the latter an eclectic selection ranging from alt-J's Pusher to Nick Cave's God Is In The House, Laura Marling's Failureand even Regina Spektor's Ne me quitte pas. Weird and wonderful, like the show.
'Castles' at QL2
Reviewed by Samara Purnell, 8 Oct 2016
Canberra City News
UPON entering the theatre, we almost walked right into Eliza Sanders, who was already on stage, stretching, and clad only in underpants. Her appearance is androgynous, save for her bare breasts, yet the focus was quickly on her strong, muscular legs, her broad, defined back and arms and her ribs.
Her movements often appeared to be exploratory, testing out various contortions, as if she had just been given the vehicle of a body to figure out, like a being just landed on Earth, or like a newborn animal trying to work out the best way to stand up.
"Castles" is a follow on from another of her works, "Pedal Peddle", which is similarly themed. This cross-genre performance, directed by Charles Sanders, incorporated elements of cabaret and blends impressive dance and movement, with physical theatre. Eliza has a background in ballet and contemporary theatre and is equally as commanding an actress as she is dancer.
Eliza explored a stream of conscious and subconscious connections, apparently random, but in fact making more sense than might be comfortable to admit. Grabbing onto a sound, a word or a phrase, she let it evolve into the next. Sometimes this segued into recognisable song lyrics, which Eliza then sang. "Gay men love Kate. Bush…It doesn't hurt me, do you wanna know how it feels?"
This was interspersed with dance segments. At one point, Eliza sings whilst in a headstand, in another, she attached herself to a patchwork figure, manipulated by her own body, before pulling lines of scarves from it and stringing them up around her.
The dramatic physicality was awkward and somewhat tortured, yet resisted self-indulgent experimentation. The strength and suppleness of Eliza's dancing was juxtaposed with the disjointed, fragile sanity represented by the script.
This is not pretty theatre. It is not designed to make the dance, the movement, the monologue appear effortless. It was breathless, gory, slightly disturbing, exhaustive theatre. There was, however, some comfort in knowing that whatever weird manic train of "random" thoughts or connections we may make up, or dream of, we are not alone – if we externalised our own internal monologue, here it is, laid before you!
The performance concluded with Eliza disassembling her colourful patchwork playground and wrapping herself in it, exiting to Regina Spektor's "Ne me Quitte Pas" (Don't leave me).
It's bizarre, it's Bush, it's best to see it and judge for yourself.
BWW Review: CASTLES Penetrates as Synaptic Synonymic Sensation Phantasm at Old 505 Theatre
Reviewed by Brodie Paparella
Broadway World
Pushing the boundaries of the performance art from is no easy task, and neither is adapting the quick-fire connective nature of the brain for the stage, and yet in House of Sands' Castles, Eliza Sanders accomplishes both, and more. In a work all at once intimate, quintessentially Australian, randomised and unbelievably funny, reviewing Castles is not a matter of attributing meaning, but asserting the importance of this inclusion in our arts landscape.
Today's Australian audience member, surrounded by intelligentsia and literati, has become ensnared in the question "what was that about?" to the point where enjoyment cannot be severed from understanding. However, relating and emoting are for more potent purposes for performance art such as this, which creates far more profound experiences for theatregoers than measuring a work by how "fun" it is. Granted Castles is incredibly fun to watch, for its apparent absurdity and pop-culture piss-takes, but these entertainments are inextricable from the sincere singing and poetry, and the fluid talent of the movement. Sanders is clearly a phenomenal dancer, writer, singer, mime, clown who has woven all skills together and expanded them between and beyond to create a replica of the human synapse. Electric, alliterative and sensual.
A swift applause for Jane Allan and Amy Oakes who along with Sanders created the costume and properties which distilled momentum and allowed for further stimulation and wild colours. Top job.
House of Sand is a family affair, with Charles Sanders taking the task of Director/Dramaturge in the performance, a process which I imagine took much intimate inquiry, and challenge to connect the dots of the stage content. Wondrous results, and congratulations to them both for a performance that may not at first glance ring with attraction. That being said, Castles is replete with humour, intelligence, contemporary themes, sex appeal and genuine human talent. It has the makings of a sell-out where Australian audiences can clue in past their ego of interpretation, or their instinct for basic entertainment, and seek true, unbridled experience.
WIERD, WONDERFUL, HILARIOUS AND HIGHLY RECOMMENDED
CASTLES
Reviewed by Jillian Davey, 13 Feb 2016
Theatreview
It's Fringe time, and on the dance/physical theatre side of things at least, that means you could witness everything from the lovely to the lacklustre. (And unfortunately lacklustre end of the spectrum gets a working, as young choreographers dominate the scene with their attempts at cathartic autobiographies or views of the world. This usually results in dry or unformed works.)
House of Sand's "Castles" is squarely and confidently placed at the far end of a spectrum, but a spectrum all its own. To be honest, from the description on the NZ Fringe Festival website, I was anticipating something on the lacklustre end. When phrases such as, "a lone woman talks, sings and dances her way through the triumphs and heartbreaks of looking for love on the road" are used, and Regina Spektor and Kate Bush are listed as text and song excerpts, I think of something a bit soppy and possibly selfindulgent.
House of Sand blasts this expectation out of the water. Instead, it is 45 minutes of weird and wonderful; an exorcism of randomness, a onewoman schizophrenic romp. It is also hilarious (underlined for emphasis) with points of poignancy that give you little moments of "the feels".
Sister/brother team, Eliza Sanders (Creator & Performer) and Charles Sanders (Dramaturge & Producer), make up House of Sand; a crossdisciplinary theatre company that brings together Eliza's dance and choreography background with Charles's theatre and directing. Along with Jane Allan and Amy Oakes (construction) and Levi Hampton (lighting), they bring "Castles" to a studio at Te Whaea New Zealand School of Dance. The production values are sparse and the lighting is a bit glitchy (I question the use of UV light), but this little team have put together an entertaining and unique piece of theatre.
As promised in the description Eliza does talk, sing, and dance; all with the conviction of a woman unearthing profound discoveries. What makes the show work well is her natural adeptness at all three. She speaks as well as she sings as well as she dances, and bounces easily from her jerkysmooth style of movement to her cabaretstyle of singing, to her streamofconsciousness spoken word. She'll dance as she sings "God is in the house, we're playing hide and seek" then launch herself into the discovery that "God is hiding in the house…God is hiding in the closet", therefore "God is in the closet!". And it only gets weirder and more wonderful from there. A particular favourite of mine was after she had disintegrated from barking dog, to whimpering puppy, to a Tourette'slike sufferer; turning the "ruff" sound into a rolling "rrrr", then launching out "RRRRonald Reagan republican rim job!" (So be warned; this show does contain rough language… lots of it.)
Hidden in this absurdist cabaret is a wash of vulnerability. You can see this woman is searching for something and not finding it. We don't know what "it" is, but it sure is fun to watch her look for it.
There's just one more chance to see "Castles"; tonight (13 February). I highly recommended you check it out. But if you don't, House of Sand have another show in this year's NZ Fringe: "Knitting While Sleeping" at BATS from 24-27 Feb.
ELIZA DOOLITTLE? NO. ELIZA DOOALOT
Reviewd by Chris Janides, 20 May 2016
Theatreview
Eliza Sanders is the virtuoso maestro of performance versatility. She is a fun maker of work with no holds barred. She will take clothes off. She will put clothes on. She will dance. She is a contortionist. She will stand on her head and talk to us. She will sing story songs and recite poetry, both of which are crammed with an overabundance of words, word play, niceties, not-niceties, images, popjazzfolkrock lyrics and appropriations, and slice-of-life mayhem. She will genderfleck (I don't know what that means, but I like the sound of it) and queerorise (I made that up because it resonates with theorise). She will hybridise herself as an Aussie Jewish New Yorkerite of highly mobile and mercurial intelligence and sharp witticisms and observations. She will transform a clothesline into an oversized Joseph's Technicoloured Dreamcoat spider's web for an alien monster. She will bark furiously like a dog straining on its lead. She will throw herself around with wild abandon. She will charm and smile as she projects verbal barbs and clevernesses that evoke laughter because of the way she delivers them but whose content is really not that funny. She will wonder if God is in the present vicinity and hope that if he is in hiding he might come out, particularly if he's in a closet. She will prance, preen, high kick, tumble, roll, splat, exhaust herself, run out of breath audibly and ultimately pull out every dance move and intricate high speed gestural hand and arm movement that she can think of. This is for us, but it is of her. It is the artful histrionics of solo display. It is a platform for a big talent, a boundless imagination and an energy of force and confidence. She will genre defy. Clearly a dancer and to this shrine she bows with mandatory pure dance moments redolent with hinted at meaning and physico-emotive fluidity that are respectfully choreographed to gentle piano music but with so many other performative layers added that this first language of her training and background becomes swamped. There is so much to take in that it is hard to summarise or absorb critically.
This is the second time I've seen this solo, the first being in one of the studios at Toi Whakaari Drama School. It is interesting seeing it in a 'theatre'. I'm not sure how effective the transfer is or how well this piece sits in the slightly more formal setting of Bats to an audience that mixes friends and colleagues with general public. There was an intensity of effort in Eliza's more public circumstance that was missing in the slightly less pressured environment of a school.
I also found myself wondering more about the link between movement and language. Language, even when it's poetic, absurd or illogical in its juxtapositions and associations, carries a literalness of meaning in each word unit that can't be removed. When married to intricate movement there is an implied connection of understanding between the word and its associated gesture. The result is pantomimed language. Except the abstracted dance gestures, which don't go all the way into the literalness of pure mime, thereby remain meaningless. Although the meanings of the spoken words or phrases are infused into the accompanying choreography, this only highlights movement's inability to communicate even more, given the addition of outside verbal assistance. I've seen this device used often in dance. Lloyd Newson, the director of UK's DV8, does it frequently and is a master of this wordmovement marriage style of work. I am often left wondering if the movement is extraneous or if it's drawing greater attention to the verbal content and its delivery? Similarly, I wonder if the words help us view the movement in a uniquely different way. Sometimes it simply looks like a case of 'look what I can do'. I have no answers, but I enjoy having work like this raise these questions.
A standout aspect for me, outside the streamofconsciousness barrage, is the clarity and interest of the various visual images that Eliza creates. I find these more memorable and easier to retain than the numerous thematic threads that make up the complex word and poetrydriven dimension of the work. Many of these visual images are formed by a cleverly constructed mass of multicoloured cloth that morphs and changes in size and function in surprising ways. The giant cobweb I've already mentioned. I really enjoy its transformation into a ballroom dance partner where it becomes a kind of Jungian shadowother through its attachment to Eliza's heels, just like real shadows do. My thoughts shoot off in a crazy lateral direction here. I see a human dancing with a placentalike double, its first soulmate in the womb. An umbilical association is evoked by the threadlike stretching of the material along the ground to which she remains attached. The German philosopher, Peter Sloterdijk, has made much of this first embryonic relationship between child and placenta, theorising that our desire for close companionship in life is a way to reestablish this deepseated first intimacy. My appreciation for Sloterdijk and his speculations are evoked in this kinetic moment of engagement with Eliza and her cloth double, giving testimony to the power and purpose of theatre art, and to the work of this young deepthinking artist.
I have to say, however, I really don't know what the game is that Eliza is setting up with her audience. The work involves direct address. She talks to us and at us all the way through. She makes us complicit but the everchanging verbosity and musicalstyle singing mode keeps us out. Audience members respond readily to the more obvious provocations, witticisms, sexual references/innuendos and popular song references, almost from relief, but between these moments I, for one, find myself dislocated and distanced. There is the overthetop facade of entertainment, but this work is ugly and aggressive. Towards the end, we are seemingly invited to respond to a question regarding an oddoneout pattern of three. Our lack of ability to reply produces dejection and Eliza immediately cocoons herself in fabric before disappearing into darkness through the seated cocoon of us. Comfort, connection, loneliness, desertion, plaintive, abusive, confrontational, messed up, unfixed. Nice frequently, and bitter too.
Castles has a quality of personal buried under camouflage. It is sweet, laced heavily with sour.
PEDAL & CASTLES - HOUSE OF SAND
Reviews by Leah Maclean, 21 May 2016
DANZ
House of Sand is a new and emerging company with ties in both Australia and New Zealand. A collaboration between brother and sister, Charles Sanders as Dramaturge and Eliza Sanders as dancer, choreographer and visual artist. Eliza brings her fresh, young attitude to the stage in two solo works – Pedal and Castles. Both pieces are directly and indirectly linked with the similar aesthetics creating a smooth transition between each. However, it is non-essential to watch one before the other as both come across as being a totally non-linear, brain dump of ideas.
Pedal opens with Eliza slinking onto the stage carrying a battered, brown suitcase and wrapped in a technicolour garment of rags. She delights the audience with a hilarious, high-speed monologue, a list of items needed in transit "ticket, money, passport, keys". As the list grows longer, the speed increases until eventually it becomes a garbled, loud mess. This instance sets the tone for the remainder of the performance; absolute chaos.
Her use of spoken word, song and dance 􀃠ow together at times seamlessly and other times pointlessly. Her brays of random, somewhat unconnected words are confusing and a simulated sex scene is a little bit uncomfortable. There is so much happening that it's overwhelming and assaulting. However, the emotion is there and the Requiem for a Dream type moments stick with you. The disturbing, one-woman rendition of TV advertisements and drivel content is reminiscent of Darren Aronofsky's freakish film. Occasions like these make one question whether her work is a social commentary or a self-commentary – but the beauty of Eliza's work is, it's really down to the individual to draw their own conclusions.
In a beautiful slice of choreography she writhes and performs acts of contortion on the floor, within the motions unfurling the technicolour garment until it is a long, striking train. On her feet again she whirls around the stage, faster and faster with the patchwork dress fanning out behind her, very nearly whiplashing front row audience members. It is a captivating sight. The piece ends with Eliza in a state of mental disillusionment. She is standing half-naked and covering herself in black paint, the strokes of the brush long and aggressive. This is accompanied by a haunting song, sung by herself, which carries on as she slowly moves out of the theatre. This is an excellent use of space and powerful conclusion. Where is she going? What is she doing? Is she okay?
Pedal proves that Eliza is a triple threat with her soothing vocals, comedic acting and her lithe movements, so in tune with herself and her body. One can't but help feel a curiosity for what kind of beautiful disaster she has next.
Castles opens where Pedal left o􀃜, half naked and covered in thick strokes of black paint. This next installment is very much within the same vision as its predecessor. Completely random and frenzied, with interludes of song and Tourette's like outbursts of words (Hugh Laurie drives a lorry… Gay men love Kate Bush…. EAT!). Castles also shows o􀃜 more of Eliza's choreography, her movement ranging from beautiful and eloquent to totally erratic and mad; but it is all done with refined precision. It is the use of her hands which draw the eye in.
The patchwork makes its way back into this set, this time in the form of a rag-doll, ungendered being. She engages in a sweetly choreographed ballroom dance with the life-size prop, perhaps an indication of a missing love or desire for love and/or connection. But, in an unsurprising turn, the sweetness is cut short when, like a magician pulling ribbons from a hat, she tears into the limbs of the being and draws out lengths and lengths of knotted rags. With these lengths she pegs them onto the two lines running across the stage and creates a cobweb of multi-colour. She weaves and tangles herself and she imitates a yappy little dog on a leash. There is more barrage of text and moments of 􀃞ne choreography. But it is difficult to really pinpoint what the work is trying to achieve, if anything.
Eliza is a tour-de-force on stage, non-stop with perhaps too many ideas running rampant. Speaking to her brother and House of Sand co-Artistic Director afterwards, even he is in awe by the energy and eruption of creativity the pint sized performer exerts on stage. Pedal and Castles de􀃞nitely live up to the nonsensical, 'stream-of-consciousness' description, and for some audiences it may not have a desired e􀃜ect; mutters of confusion 􀃠oat around after the show. However, as a young performer it is di􀃡cult not to appreciate her explorative approach and the need to challenge herself and the audience. And her ability to work so adeptly across disciplines cannot be ignored. The works reflect a quirky, 'take-no-prisoners' kind of personality and I'm sure with time and experience Eliza will come to be able to hone these traits and use them in the most remarkable ways