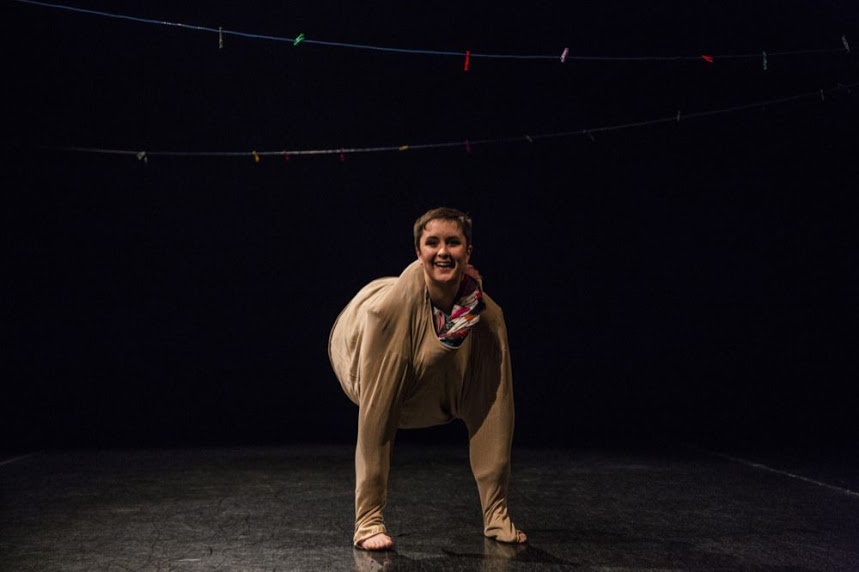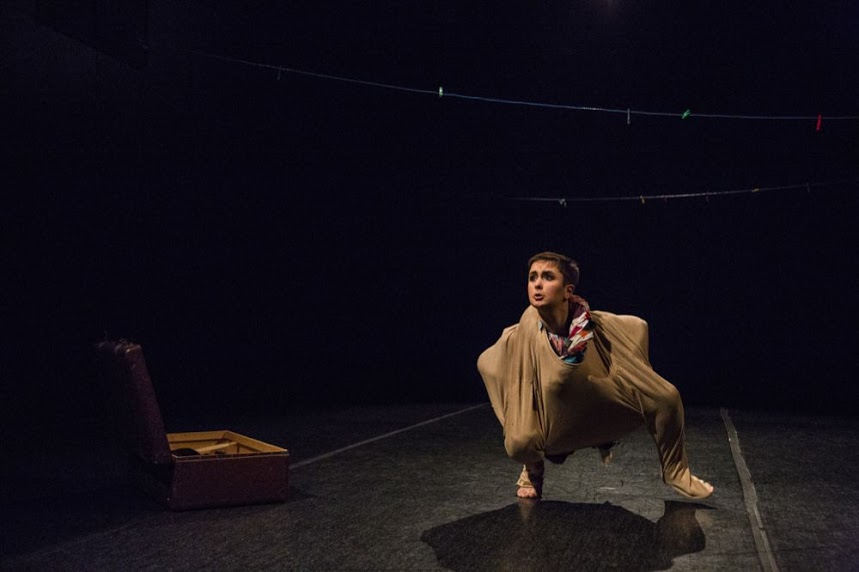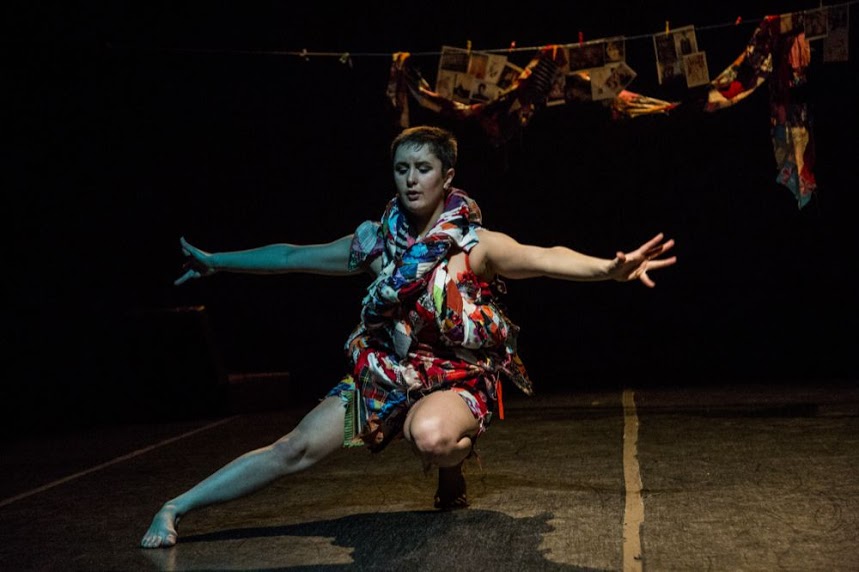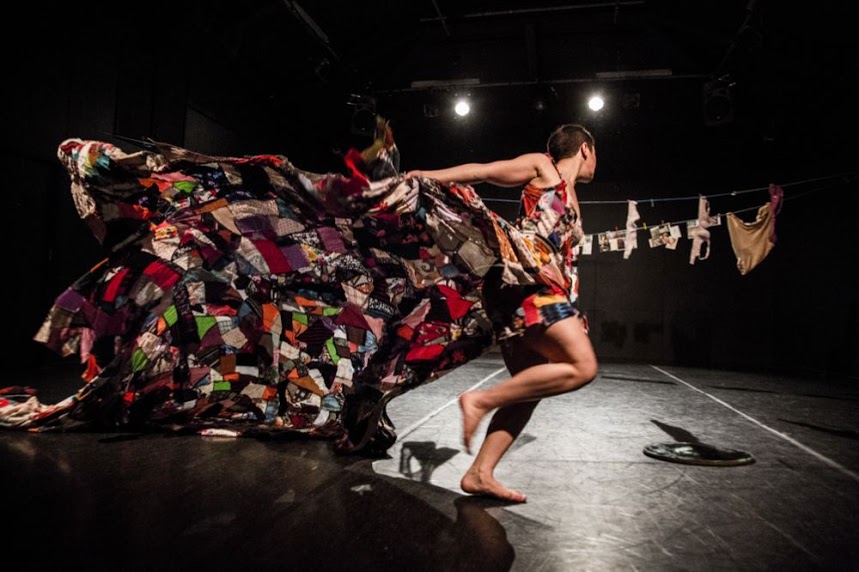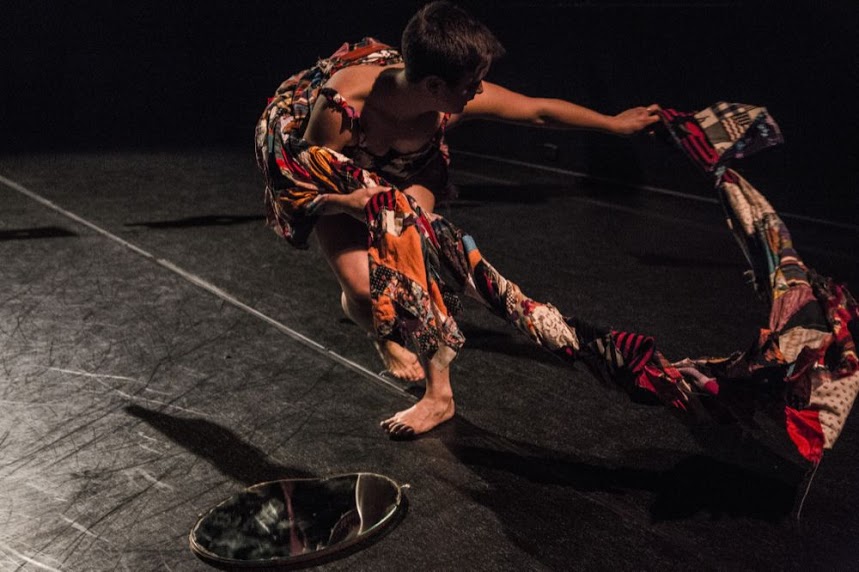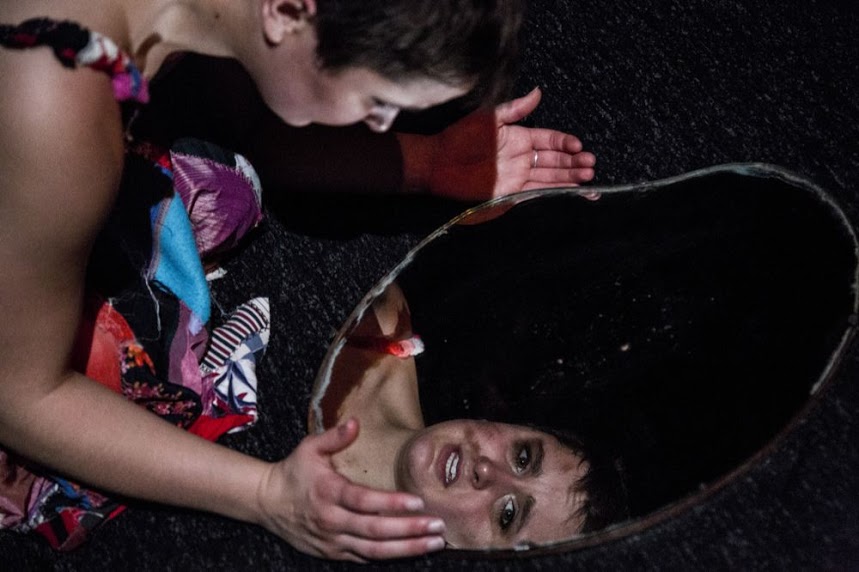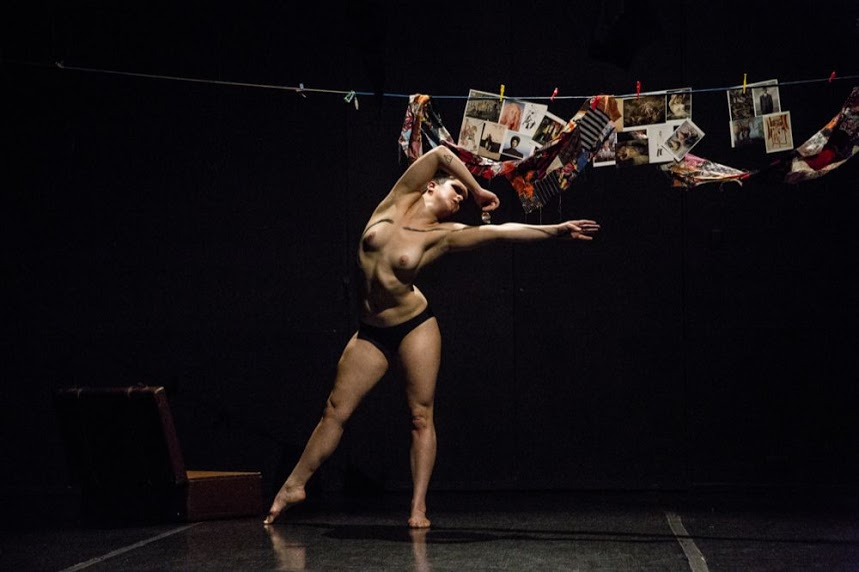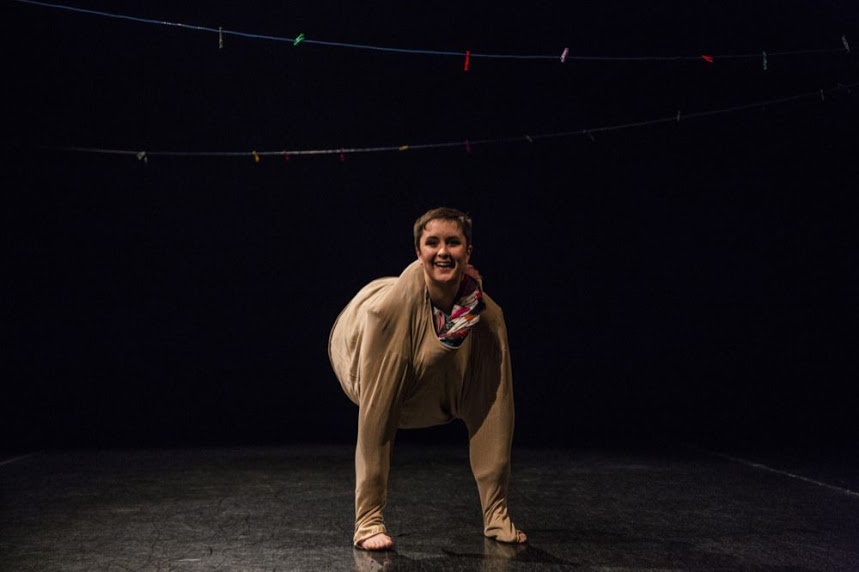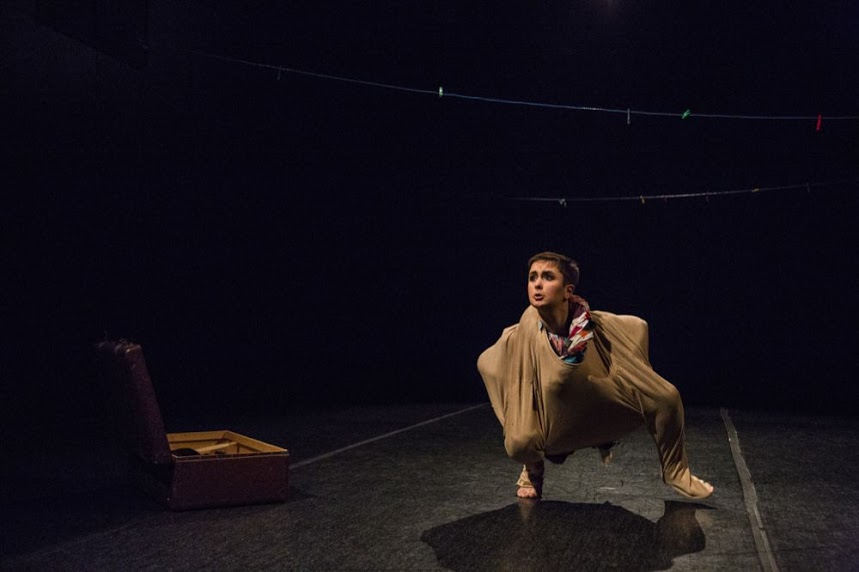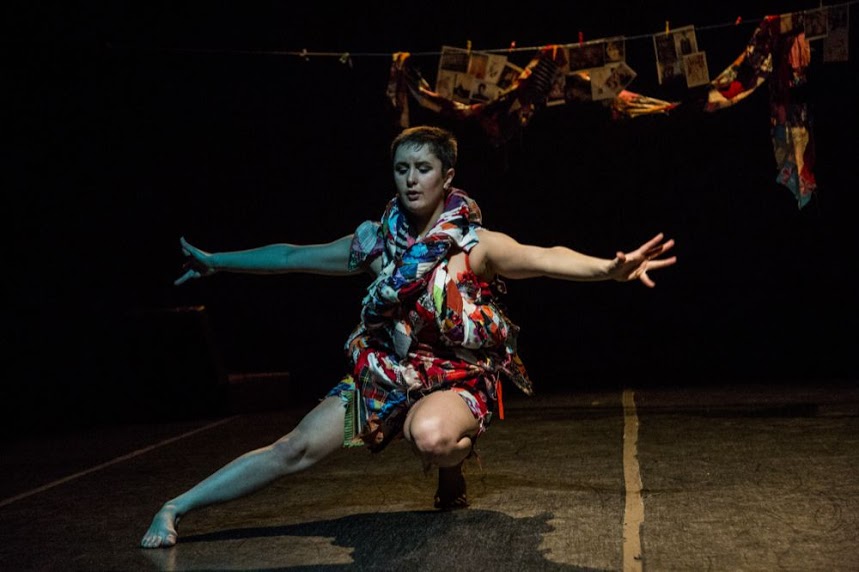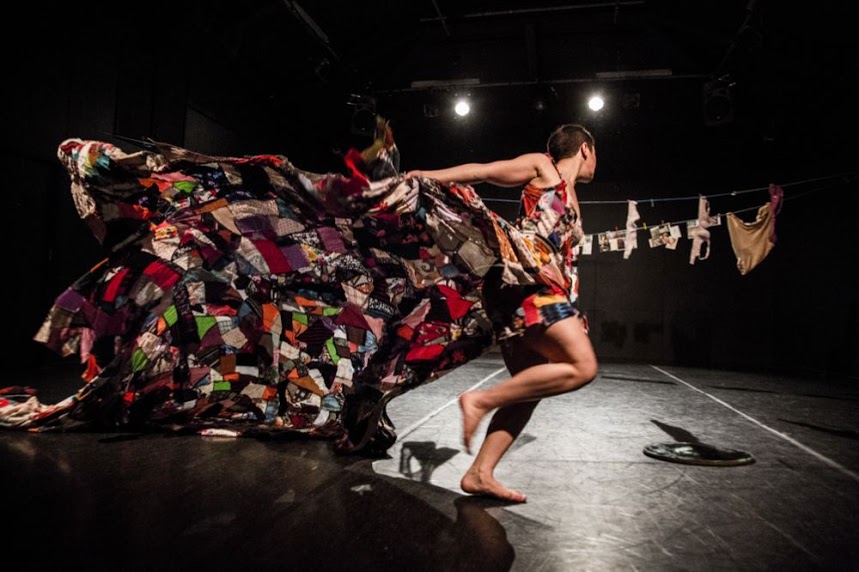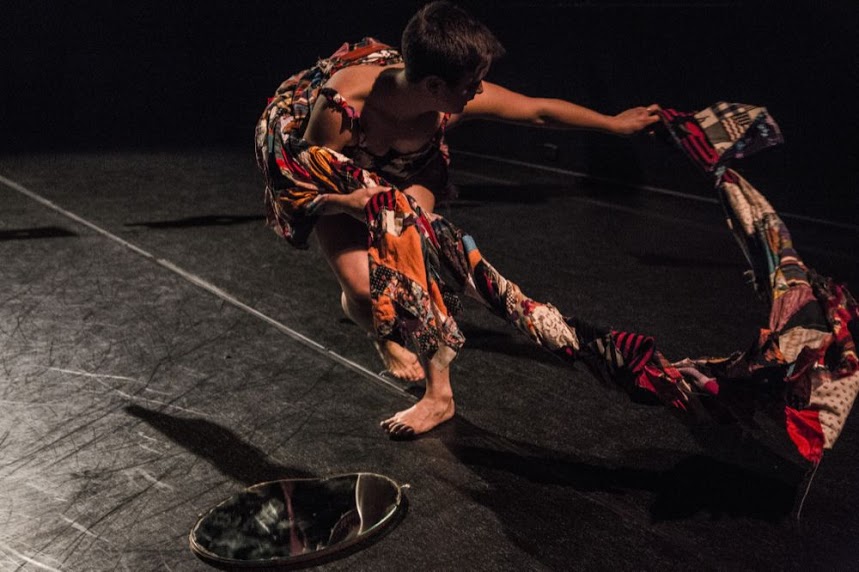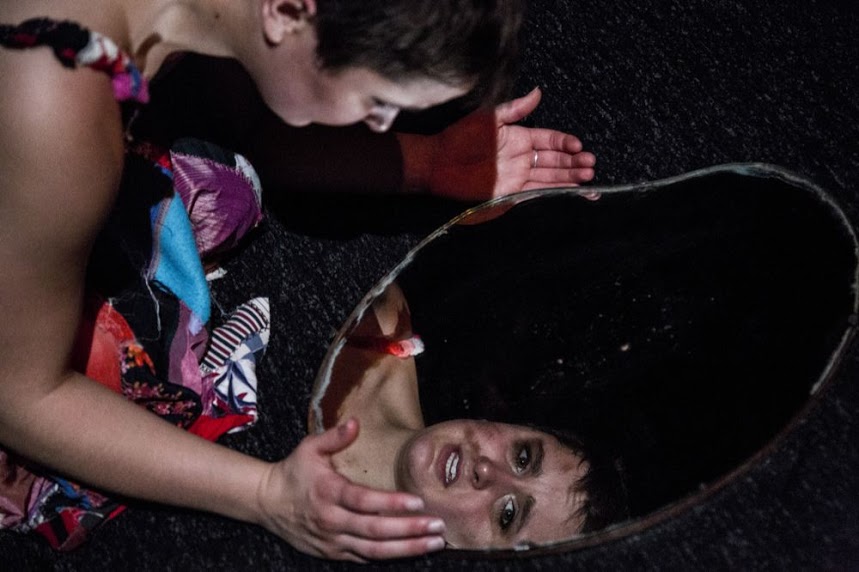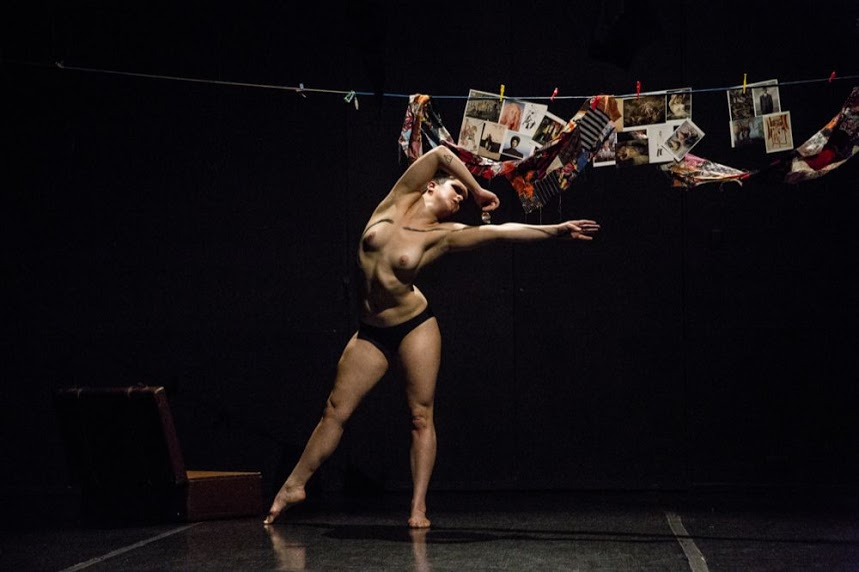 REVIEWS
Pedal
All Over Adelaide Daniel Pham, 11 March 2018
⭐️⭐️⭐️⭐️1/2 - 4.5 stars
Enter with Eliza Sanders journey and dance through the web of emotions, memory and thoughts that too often occupy our minds. From playful beginnings to a deeper, darker and stripped back end you are left wanting more. There's something that feels so raw, genuine and real in this madness of mind, mime, dance and voice.
Ushered into the dimly lit theatre, we take our seats. Two bare clotheslines and the show begins, sole performer Eliza Sanders comes forth with a suitcase and we begin to unpack it all. Stepping into many scenes seemingly incoherent and nonsensical, you are disarmed by allowing yourself to merely observe and delve deeper as you follow a conscious stream of hers and your own thoughts, memories.
As the first part of a double billed show, ("Castles" as pt 2), you can unravel the stream of thoughts further as you explore Eliza's and your own mind dancing with the different themes. A confused rambling. A 6am flight. A search for a home. A conversation alone. A question to ask. An attempt to orgasm. To name a few. From the beginning, each moment your mind works to create sense out of the scenes, seemingly senseless, illogical and yet at times so powerfully invoking of deep felt emotions.
Be swept away on this unpredictable journey through the inner workings of mind. An absolutely outstanding piece. Follow Eliza Sanders as she shares this brilliant performance art of compelling physical theatre, beautiful voice, mime and dance.
Adelaide Fringe Review - Pedal
The Advertiser Peter Burdon, 5 March 2018
⭐️⭐️⭐️⭐️1/2 - 4.5 stars
THE first of two pieces in a set from siblings Eliza Sanders (dancer and all-round performer) and Charles Sanders (director), Pedal is a helpful introduction to the subsequent Castles.
There is a strong relationship between the two, both in Eliza's movement and her considerable acting and vocal skills, and in the omnipresent dark tone of the pieces, though without being grim.
The piece begins with Eliza swathed in what looks like a pile of rags, which transform into an evening gown that Cinderella might have worn if she'd never escaped the ashes of the kitchen fire.
There are glimpses of joy, and an occasional fashionista twirl, no surprise when she's singling Regina Spektor's Aching to Pupate.
But, as the song goes: "peddling is a dirty sport." And an allusion to the same song's butterflies. Pedal and Castles are strong, uncompromising pieces, sitting well together.
Edited to a single full length-work, they'd be a 5 star powerhouse.
Pedal
The Barefoot Review David O'Brien, 2 March 2018
4 stars
Director Charles Sanders is spot on when he describes his sister's work as having "the logic of memory, dream and emotion."
Pedal offers an extraordinarily striking range of contrasting images in movement and colour presenting themselves as a sort of tale peddled to the audience, as Eliza Sanders 'cycles' from one phrase of choreography and word song to the next.
It's quite captivating once you surrender to it. There's a sense this tale is one of a journey to another country, or another place within the self. Sanders is robed in a delightful multi coloured one piece costume, the set comprising a bare stage crossed by two long washing lines with pegs, suitcase and a small mirror representing water, rules the space. Sanders fills it with known contemporary moves, some highly exotic, some fabulist in construction.
Words repeated become at one with repeated actions. Beautiful songs wistfully glide aside the choreography. Moments addressed to the audience seem half an appeal to engage us directly and half to shift the direction of the piece, as if something stronger is needed to peddle the audience successfully.
A magnificent Fringe experience in the true spirit of the term.
Pedal.Peddle
Reviewed by Emily Shaddick
Australian Stage
Eliza Sanders is the creator and sole performer in Pedal and she is extraordinary. It is like she is a direct conduit to an ancient and playful creative spirit. The performance is a patchwork of spoken word, dance, song and a plethora of sounds, all woven together with a thread of inspired genius. Using only a jumper and her body Sanders creates shapes that rattle your cerebellum. The script is more like a transcript of a word association game played by a group of unhinged friends driving back from Burning Man in Nevada.

Sanders performance refuses to give you anywhere to hang a breath of logic or narrative. The mind will at first desperately seek a place to anchor, it will fight to find a story, any kind of flow. But it is a fight it will never win. Pedal won't even engage in discussion let alone a wrestling match with your wits and you will be left with your gloves dangling by your side and your mind wide open. Sanders herself repels definition. She does not write about her work and she is reluctant to return to the stage for an encore.

Sanders has a complete lack of guile as she moves between lucidity and lunacy and back again. This creates a canvas for the audience to come to terms with what they are seeing and hearing and create their own meaning and interpretations of the work. It is by no means an absence of personality or presence but more like an ability to weave herself into the work as an offering, another element for you to take as it is.

The staging and props for Pedal are minimum and they seem to be perfect for every moment yet have no meaning at all. Sanders costume acts like another layer of skin, albeit a more dynamic and transformative layer. The shapes she creates using her limbs and threads that are captivating and provocative.

Pedal is hard to explain, impossible to define and unlike anything you have seen before. It is a physically lyrical performance that is innovative, bold and truly spectacular. It should not be missed and Sanders performances should be sought out at every opportunity.
 
BWW Review: Part One of House Of Sand's Sydney Fringe Offering, PEDAL.PEDDLE Is An Intriguing, Thought Provoking Experience
Reviewed by Jade Kops
Broadway World
Captivating and confusing all at the same time, PEDAL.PEDDLE, half of Eliza Sander's offering for Sydney Fringe Festival, has the audience mesmerised as they try to make sense of the expressive work. A combination of dance, movement, music, spoken word and visual art, this work has people guessing as Saunders drifts between logic and confusion.
The intimate space of Old 505 is dressed simply with a washing line, complete with pegs, and an asymmetrical mirror laid on the floor. The pixie like Eliza Sanders, swathed in an extensive patchwork of colourful rags and carrying an old suitcase sets the tone for a mystifying, comical and creative 'story'.
Whilst a definitive meaning is difficult to decipher, this work, directed by Eliza's brother Charles Sanders, has a wonderful intelligence, ensuring that the audience see Eliza as much more than a dancer. Starting with the comic memory device that turns into a meditative chant, complete with some amusing connections side-tracking the recall, we see Eliza's linguistic playfulness. When teamed with her physicality that taps into more than just traditional stylings but oozes imagination and innovation yet still retaining a simplicity, the 'story' becomes even more abstract. There are moments that exude innocence and whimsy, particularly the contortions involving a sweater, that are reminiscing of a small child playing. This is contrasted with times of seriousness and deep though in her words and actions.
Eliza's spoken word 'poetry' is beautifully clear, honest and presented as her own, not attempting to take on voices or accents ensuring the connection with the audience remains personal, even as she alternates between talking to the audience and talking to an imaginary listener in the corner. Her vocals have a richness, warmth and at times a touch of melancholy. Whilst the 'poetry' is intriguing, there is also a lovely balance of silence where the audience is allowed to focus on her movement.
PEDAL.PEDDLE is an unusual, beautiful, intriguing and baffling work which for some part, may be best viewed without trying to make sense of it and just enjoying the rhythm of the text, the beauty of the movement and the vibrancy of the costume. This work is being presented in conjunction with House of Sand's CASTLES playing on alternate nights with a double bill on Saturday night.
Dance of Oblique Fascination
PEDAL.PEDDLE
Reviewed by Bill Stephens, April 25th 2015
Canberra City News
A FORMER Quantum Leap dancer, Eliza Sanders has spent the last three years studying in NZ. While there she developed "Pedal.Peddle" in which she combines contemporary dance, cabaret and absurdist theatre forms, and which she performed in Canberra as part of curated residency at QL2 Dance.
Into a space strung with clotheslines, a small figure emerges carrying a large suitcase and wearing what appear to be all her worldly goods wrapped around her body. She begins to chant a mantra to remind herself where she has hidden her keys, money and mobile. As she remembers more items to add to the list, the mantra becomes more convoluted and hilarious. She unpacks some of the contents of her suitcase, pegging on the clothesline an assortment of photos and newspaper clippings (memories perhaps?) and eventually an assortment of bras. Then she pulls from the suitcase an old pair of tights, which she pulls over her head and morphs, surprisingly and hilariously, into a large chicken which scampers around the stage.
The effect is mesmerising as the audience is drawn into an ever more surreal and funny world. The multi-coloured cloth around her body becomes a huge lizard-like tail, and eventually a beautiful flowing train. Through out all these revelations Sanders recites existentialist poems and sings unaccompanied songs in a sweet, compellingly clear voice, sometimes to herself, sometimes directly at the audience.
Many more such moments occur including a lovely sequence involving a conversation with a mirror masquerading as a pool of water. Eventually she emerges, almost naked, from the flowing costume as if from a chrysalis, moving confidently around the stage, until the mood darkens, and she returns to the suitcase, removes a large paintbrush, and slowly and deliberately proceeds to paint thick black lines over her body, sometimes using her mouth to manipulate the brush. The effect is unsettling and strangely beautiful.
What to make of it all is left to the imagination of the individual observers, but the journey was is infinitely fascinating, absorbing, compelling, hugely entertaining and beautifully executed.
pedal.peddle
Reviewed by Peter Wilkins, 24th April 2015
Canberra Critics Circle
Occasionally an artist emerges who possess the thrill to surprise. Eliza Sanders is such an artist. I did not know what to suspect as I entered the QL2 Studio at Gorman House Arts Centre. Eliza had invited me to review her dance work, and although I stressed that I was not a dance reviewer, she insisted that she wanted a theatre reviewer's perspective of a dance piece that she regarded as owing its inspiration to Theatre of the Absurd that would not be judged in conventional manner.
From the moment she entered the space, carrying a suitcase and entangled within a colourful display of enveloping material, Sanders enticed instant curiosity. Contemporary dance is the outward expression of the internal passion and the audience is invited to engage in a private conversation with oneself. What unfolds is the mystery of meaning and we are left to define its message.
And so, Sanders seduced me into taking a journey with her from the surprising utterance of words as she crossed herself during an itemized reminder of the things required for her impending journey. "Tickets, passport, Tampon, charger" over and over again as her arms jolted and jerked in the sign of the Holy Spirit. Here is the embarkation on Life's travels, the fears, the doubts, the rituals, the desperate, urgent pleas for acceptance (I can sleep anywhere. I can sleep on the floor, as she writhes in anxious supplication, and finally the unravelling of the baggage that leaves her half naked, exposed and daubed with smears of black paint that mark her for the vulnerable, the exposed and the isolated. And so I watch an artist, whose originality, creative ingenuity and physical command of space entices and mesmerizes. Here is not the aesthetic of dance or the tutored expression of bodily movement, and yet it is the signature of dance that gives expression to feeling. I feel for Sanders' anxiety, her confusion and her rebellious divestment of Life's trials and tribulations. As she pedals through Life's challenges preparing for a journey, hanging out Life's washing upon the line, unravelling the clothes that define her and besmirching herself in defiance, I am aware that here is an unique and compelling artist, unfettered by convention and forcefully defining her art and her experience.
Of course, I may have interpreted my own experience inaccurately in terms of Sanders' conscious intentions. After all, her 6 a.m. flight could be taking her on a very different journey. But that doesn't matter. I am moved. I am involved. I am provoked to think and to feel and to wrap my own impressions about her art, as her body speaks the language of movement.
It is all surprise. I did not expect the witty snatches of dialogue. I did not expect the purity and seduction of her song and the words of Edith Piaff or Laura Marling or Jordie Lane amongst others. I did not expect the sudden touches of comedy as she transformed into a chicken, or the drama of her being in the fluidity of her dance of disrobing.
I approached without expectation and I left with a deeper appreciation of the power of the dancer to persuade and surprise. Sanders defies expectation and excites with the originality of her dance. Her work requires the commitment of an audience to engage with the image, evoke the emotions and arouse the intellect. If this occurs, Sanders' work will offer a new experience in the lexicon of dance. She emerges as a refreshing new talent in contemporary Australian dance.
LIQUID POETRYOF WORDS IMAGES ANDMOTION
Pedal.Peddle
Reviewed by Chris Jannides, 14 Mar 2015
Theatreview
Eliza Sanders graduated last year from the New Zealand School of Dance's contemporary dance programme. What a force she is! Compelling. Original. An emerging artist with a mature and distinct creative voice. She sings. She dances. She writes. Delivers poetic dialogue at a pace and level of clarity and confidence equal to any trained actor. Has a pliant body that is technically superb. Choreographs movement that is intricately tied to its narrative without ever seeming superfluous or gratuitous. Switches from insane eccentricity to intense poignancy as quickly as turning a light on and off. And possesses a depth and range of imagination in this hour long solo that is never short of content, variety and surprise. Virtuosic, herculean, mercurial, clever and generous. Well deserving of the standing ovation given her by an audience mostly made up of peers, tutors and other close friends and colleagues watching the debut of a new and important creative talent in our dance and performance landscape.
What Eliza masters and showcases in Pedal.Peddle is an ability to morph words, images, ideas and movement in an accumulating stream of consciousness that winds its way through a journey of displacement, rejection, anxiety and reflection without ever losing its way. This is a superb piece of crafting.
The work is intimate. A person alone. There are common motifs, common that is to theatrical environments I've seen before. A suitcase. Clotheslines. The latter are strung up across the space and get strips of multicoloured material hung on them alongside images and postcards. Are these memories? Snapshots of the past? One line gets an assorted array of brassieres attached to it to the accompaniment of 'ha ha's' and 'he he's'. We all laugh with her. Comedy is a strong element throughout. It counterpoints the personal element perfectly. Yet doesn't in any way undermine or diminish the intensity or sobriety of other moments.
There are highlights galore that attach easily on the clothesline of our own memories. A totally bizarre plucked chicken that she makes by crawling into stretch material that then waddles and rolls in hysterical plump clumsiness while talking to us about… Well I was too distracted by the image to remember what she was talking to us about! It was a cross between the freaky chickens in David Lynch's Eraserhead and a heavily distorted moaemu cross from some kind of Pixar animation.
Birds are a recurring motif. As well as butterflies. Flight. Fleet. Aircraft. Leaving. A glorious moment where she flies around the space with her colourful patchwork costume billowing and streaming out behind her. A long bridal train that she is both fleeing and seeking. A butterfly emblazoned.
This is a bits and pieces woman. Spurned by a lover. Falling apart. A lone mirror on the ground doubles as water and a place for selfexamination. Narcissus like, questions are raised about the coldness and cruelty of love. Desire unrequited. We hear: 'No matter how hot she gets, she has a hard time melting ice'. The costume, originally wrapped around her like a cocoon out of which she unravels, is in the end discarded leaving her naked well almost. There is the humorous image here of a topless woman in black underwear beneath a canopy of coloured bras, all of which she ignores. Preferring instead to cut and slash herself with a paintbrush and black paint. Scarring and smearing her body. She puts the paintbrush between her teeth and paints movement on her body with her mouth. A perfect visual metaphor for the poetic speech that has been issuing from it previously.
There is lovely pathos in this work. From the remotest clothesline a small paper butterfly is removed and held above the mirrorlake, now painted black. The butterfly is dropped into the water that is 'clear', but not. She exits through the audience singing and battered, but with a resigned sense of triumph.
What I value in this performance is the successful mixing of surreal and absurd images with very literal content about a human situation of loneliness and growth. Art tackles anxiety and confusion in a fullbodied performance onslaught that leaves no element disentangled from the rest. The cleverness here is impressive and stimulating. Songs by Edith Piaf and others with titles such as: 'Aching to Pupate', 'I Shouldn't Care', 'My Manic and I' are sung without musical accompaniment. Eliza's is a confident plaintive voice that slices though the space with the same clarity as her equally as expressive choreography. Choreography that is spiralling, intricate, reaching, anxious, throbbing, elastic, open, awkward, lyrical, torn, uncoordinated, analytical, dynamic.
This work is about a kinetics and a poetics of performance that should be responded to with other poetry. Here is mine, stripped from the notes I took in the dark:
"coming up next we have…"
Like a smiling pretender
Finding self
Finding face
She sings about 'him'
Morning is mocking me
Shock of soft female flesh openly lit and exposed downstage
She is stabbed by softness
Sings
No need to fear the water is clear here dear.
Don't be impatient to see Eliza's work, because I am certain there is a lotmore of it to come. I am certainly hoping this.
Actually, change that. Be impatient. I'd love you to check for yourself the richness of this artist's work.
A SOLO TO REMEMBER
Reviewed by Deirdre Tarrant, 18 May 2016
Theatreview
This is the first of two solos Eliza Sanders has developed and performs. She is a tour de force and has charisma and theatrical magic in spades. Sanders creates and performs and collaborates with Charles Sanders who produces and acts as her dramaturge. Together they define their work as 'abstract, illogical and some would say weird'. I loved it and it is that sort of illogical that pulls one in and spits one out and leaves a changed state of awareness and recognition of self and state.
Driven by the rhythm of voice, words, song, and body, this is a personal journey and quest. Along the way shards of experiences, images, and brilliant juxtapositions take place. There is brilliant colour, tactile, provocative, and sensory with a myriad of accessible and associative glimpses of our world.
A beautiful butterfly dress of multi colour patchwork pieces is discovered via a kaleidoscope of images all emanating from her body a shaman a Chinese dragon hoops loops Joseph's technicolor dream coat spin past and remind me of prayer flags and the exotic cultural dress of both Asia and Africa. Colour and private underwear unfurl along the parallel washing lines/ life lines strung above the stage and Eliza chooses to never fall into the straightforward easy option of those lines as they move to inevitable infinity.
She swoops, rolls, explodes, implodes, gestures manically but specifically in her search for her own elusive butterfly of truth. There is a physical tension all the way and she is always reined in and attuned to her fragmented but fascinating Self.
Artistically and emotionally, the work leaves us to confront our own demons and there is discomfort along the way. The doubts are ours to resolve. Eliza is always secure in her convictions and her dance is totally integral in responding to a myriad of words, phrases and suggestions. This is a work of the me generation and borders at times on the self indulgent, but it is true to its objective to search for the personal.
In today's world where the issues seem so large and insuperable, it is interesting to step inside a cocoon of self for an hour, rather like shutting the bedroom door and burying oneself in grandma's quilt.
Her dance is strong and motifs recur with strong compositional effect vocabulary used in one context reappears or is revisited in another and dressed or undressed differently. There is an effective reliance on gestural content and repetition. The lighting by Grace MorganRiddell is excellent and creates wonderful reflections on both fabric and skin. Using some of her own 'words' the Pedal, Peddle experience is truly "a conversation alone", "a joke to share", "a question to ask" ?
Don't miss it. A solo to remember.
Pedal & Castles - House of Sand
Reviews by Leah Maclean, 21 May 2016
DANZ
House of Sand is a new and emerging company with ties in both Australia and New Zealand. A collaboration between brother and sister, Charles Sanders as Dramaturge and Eliza Sanders as dancer, choreographer and visual artist. Eliza brings her fresh, young attitude to the stage in two solo works – Pedal and Castles. Both pieces are directly and indirectly linked with the similar aesthetics creating a smooth transition between each. However, it is non-essential to watch one before the other as both come across as being a totally non-linear, brain dump of ideas.
Pedal opens with Eliza slinking onto the stage carrying a battered, brown suitcase and wrapped in a technicolour garment of rags. She delights the audience with a hilarious, high-speed monologue, a list of items needed in transit "ticket, money, passport, keys". As the list grows longer, the speed increases until eventually it becomes a garbled, loud mess. This instance sets the tone for the remainder of the performance; absolute chaos.
Her use of spoken word, song and dance 􀃠ow together at times seamlessly and other times pointlessly. Her brays of random, somewhat unconnected words are confusing and a simulated sex scene is a little bit uncomfortable. There is so much happening that it's overwhelming and assaulting. However, the emotion is there and the Requiem for a Dream type moments stick with you. The disturbing, one-woman rendition of TV advertisements and drivel content is reminiscent of Darren Aronofsky's freakish film. Occasions like these make one question whether her work is a social commentary or a self-commentary – but the beauty of Eliza's work is, it's really down to the individual to draw their own conclusions.
In a beautiful slice of choreography she writhes and performs acts of contortion on the floor, within the motions unfurling the technicolour garment until it is a long, striking train. On her feet again she whirls around the stage, faster and faster with the patchwork dress fanning out behind her, very nearly whiplashing front row audience members. It is a captivating sight. The piece ends with Eliza in a state of mental disillusionment. She is standing half-naked and covering herself in black paint, the strokes of the brush long and aggressive. This is accompanied by a haunting song, sung by herself, which carries on as she slowly moves out of the theatre. This is an excellent use of space and powerful conclusion. Where is she going? What is she doing? Is she okay?
Pedal proves that Eliza is a triple threat with her soothing vocals, comedic acting and her lithe movements, so in tune with herself and her body. One can't but help feel a curiosity for what kind of beautiful disaster she has next.
Castles opens where Pedal left o􀃜, half naked and covered in thick strokes of black paint. This next installment is very much within the same vision as its predecessor. Completely random and frenzied, with interludes of song and Tourette's like outbursts of words (Hugh Laurie drives a lorry… Gay men love Kate Bush…. EAT!). Castles also shows o􀃜 more of Eliza's choreography, her movement ranging from beautiful and eloquent to totally erratic and mad; but it is all done with refined precision. It is the use of her hands which draw the eye in.
The patchwork makes its way back into this set, this time in the form of a rag-doll, ungendered being. She engages in a sweetly choreographed ballroom dance with the life-size prop, perhaps an indication of a missing love or desire for love and/or connection. But, in an unsurprising turn, the sweetness is cut short when, like a magician pulling ribbons from a hat, she tears into the limbs of the being and draws out lengths and lengths of knotted rags. With these lengths she pegs them onto the two lines running across the stage and creates a cobweb of multi-colour. She weaves and tangles herself and she imitates a yappy little dog on a leash. There is more barrage of text and moments of 􀃞ne choreography. But it is difficult to really pinpoint what the work is trying to achieve, if anything.
Eliza is a tour-de-force on stage, non-stop with perhaps too many ideas running rampant. Speaking to her brother and House of Sand co-Artistic Director afterwards, even he is in awe by the energy and eruption of creativity the pint sized performer exerts on stage. Pedal and Castles de􀃞nitely live up to the nonsensical, 'stream-of-consciousness' description, and for some audiences it may not have a desired e􀃜ect; mutters of confusion 􀃠oat around after the show. However, as a young performer it is di􀃡cult not to appreciate her explorative approach and the need to challenge herself and the audience. And her ability to work so adeptly across disciplines cannot be ignored. The works reflect a quirky, 'take-no-prisoners' kind of personality and I'm sure with time and experience Eliza will come to be able to hone these traits and use them in the most remarkable ways.