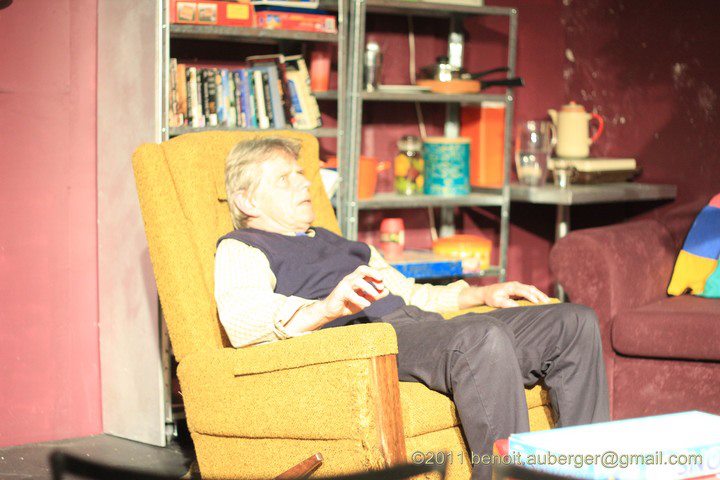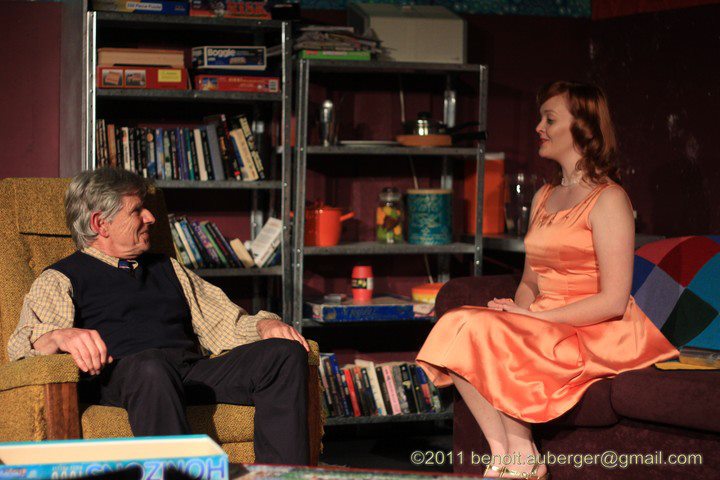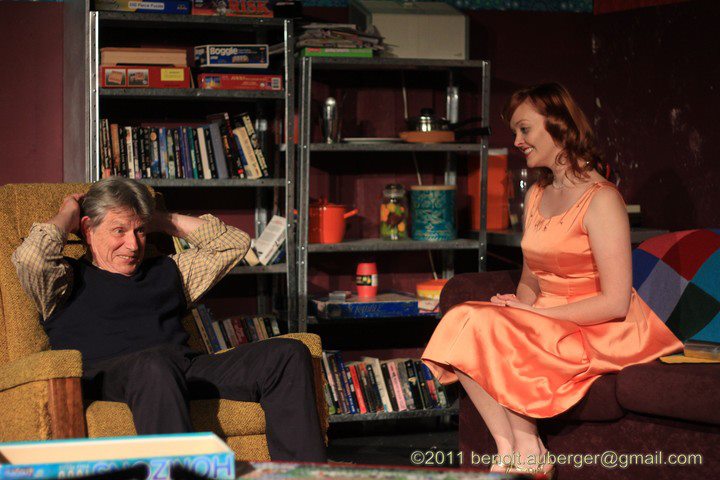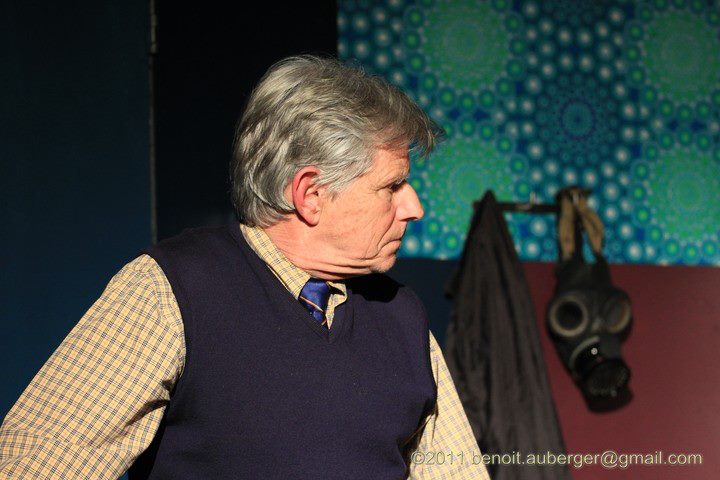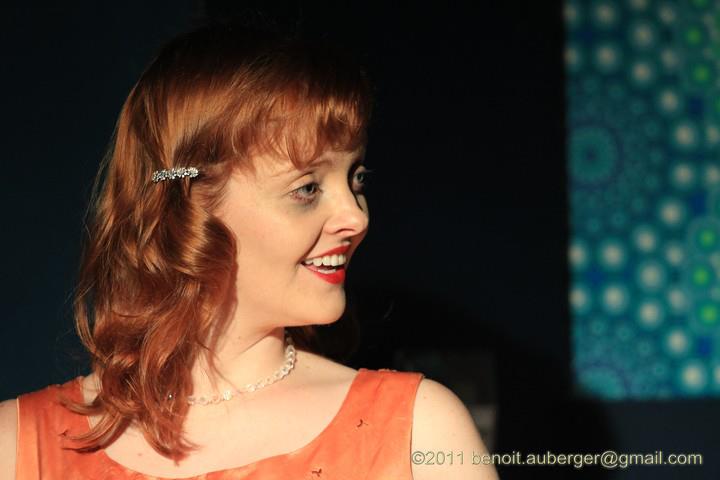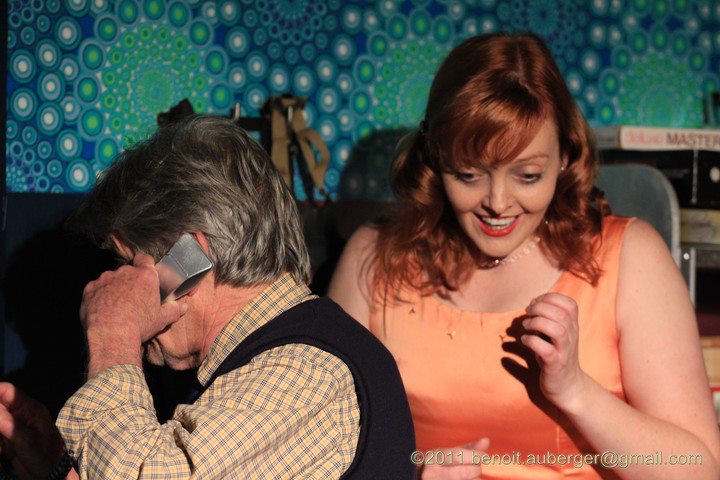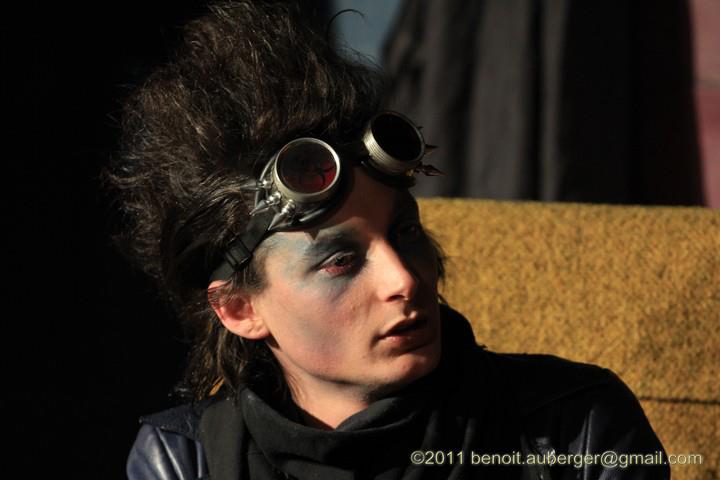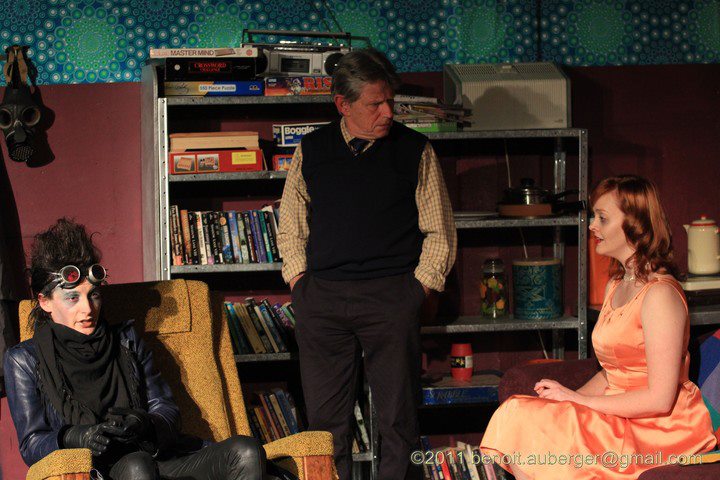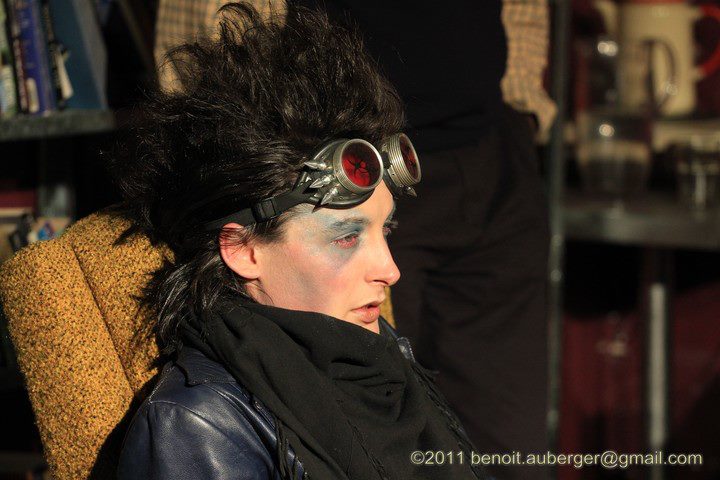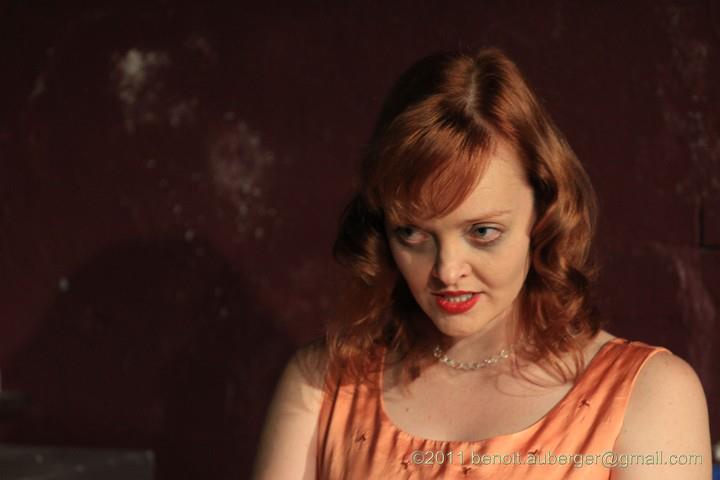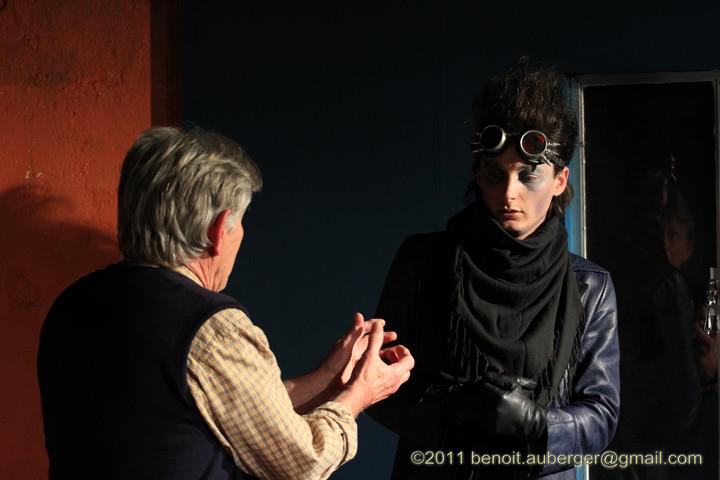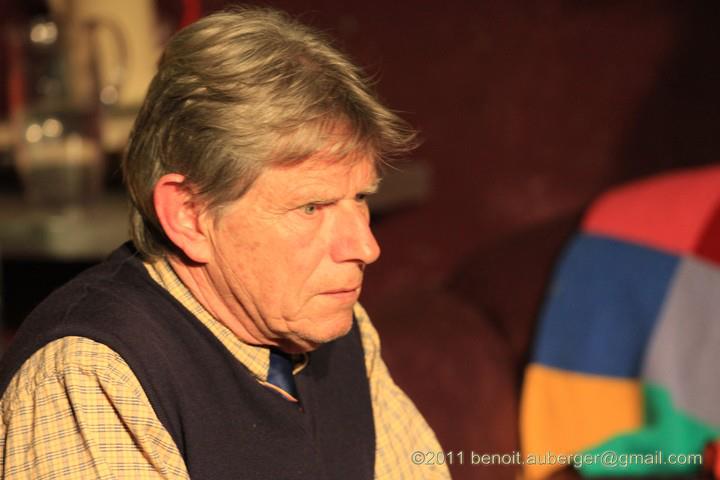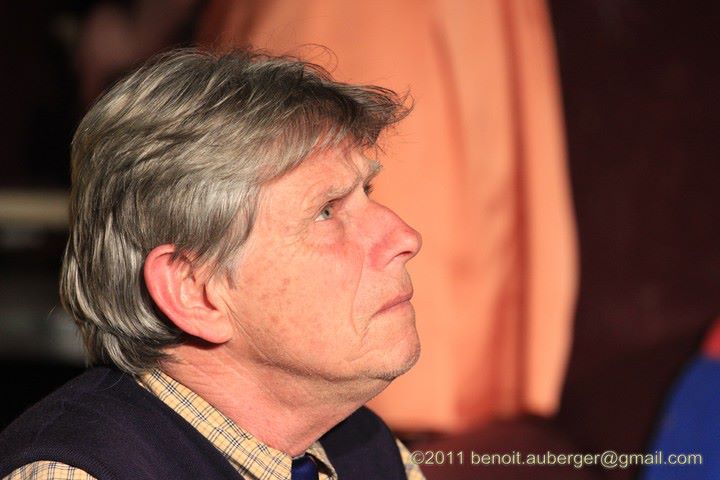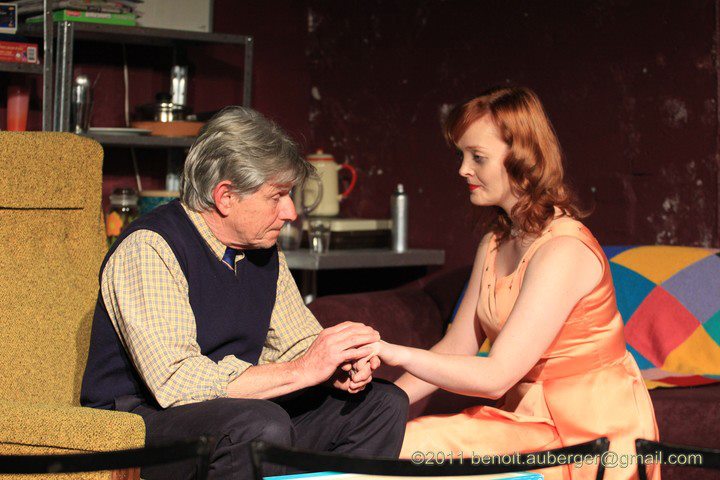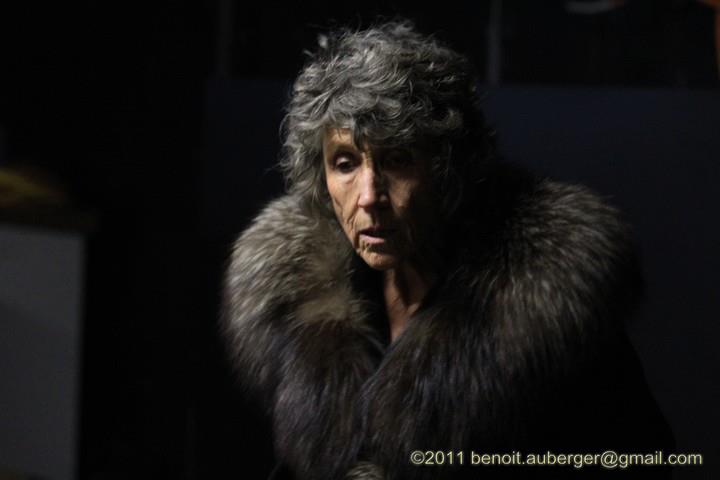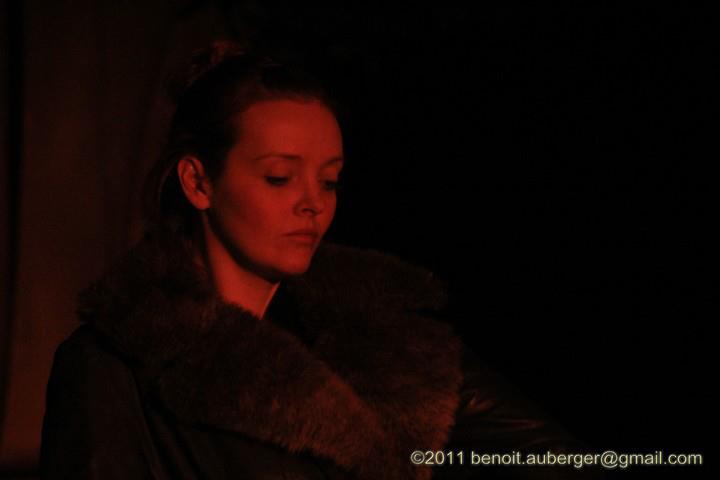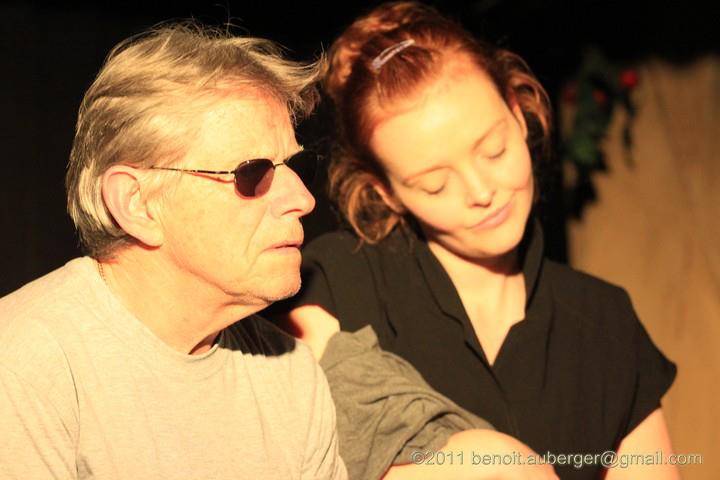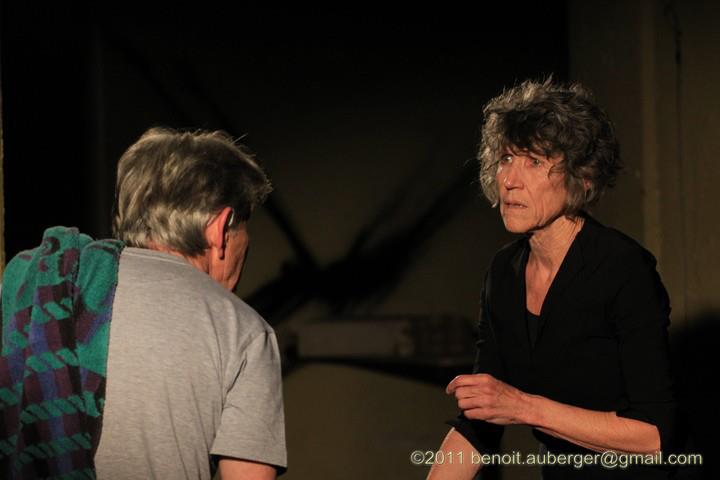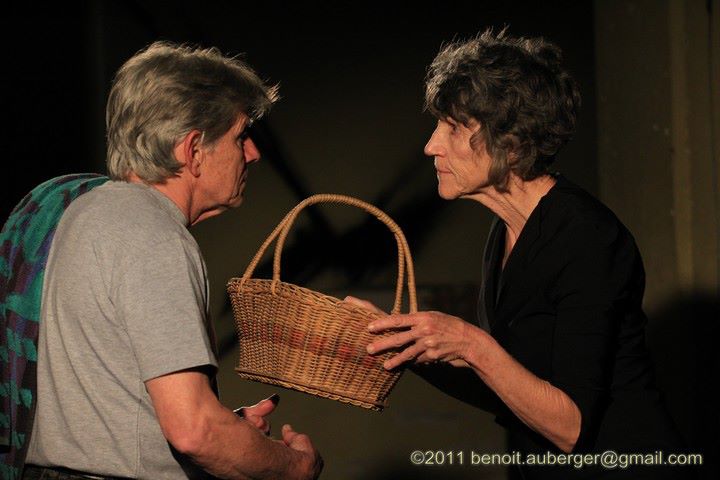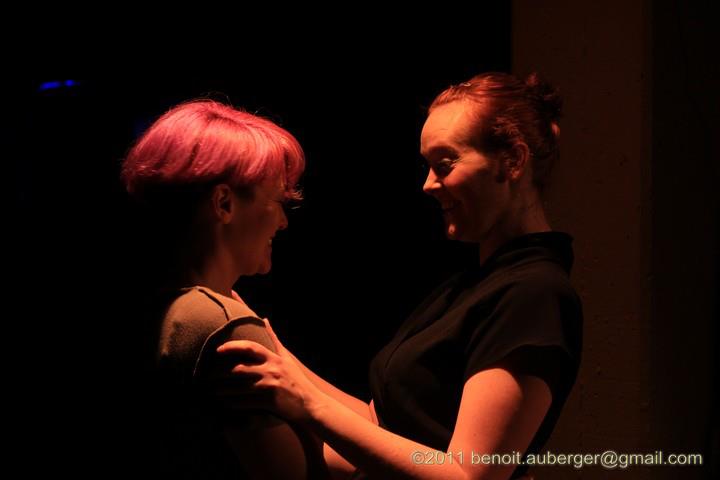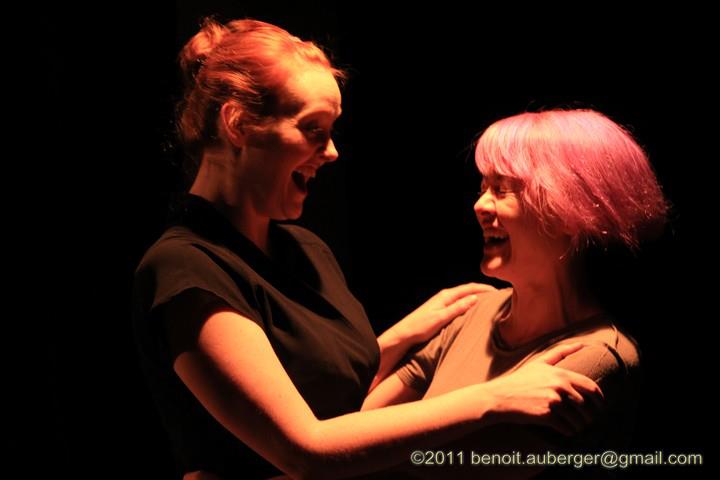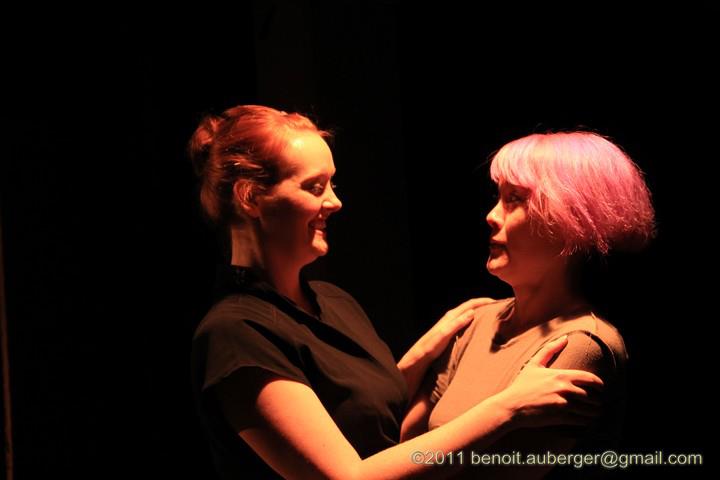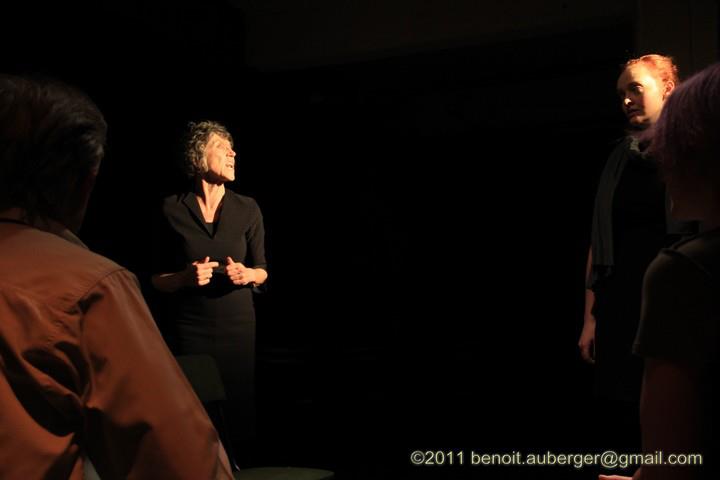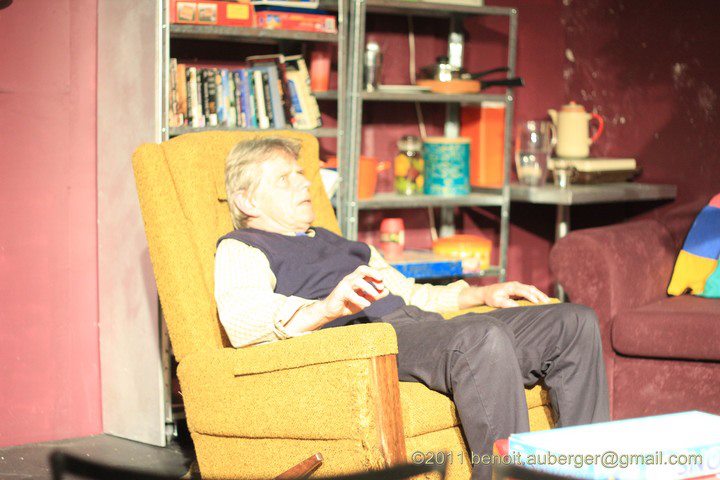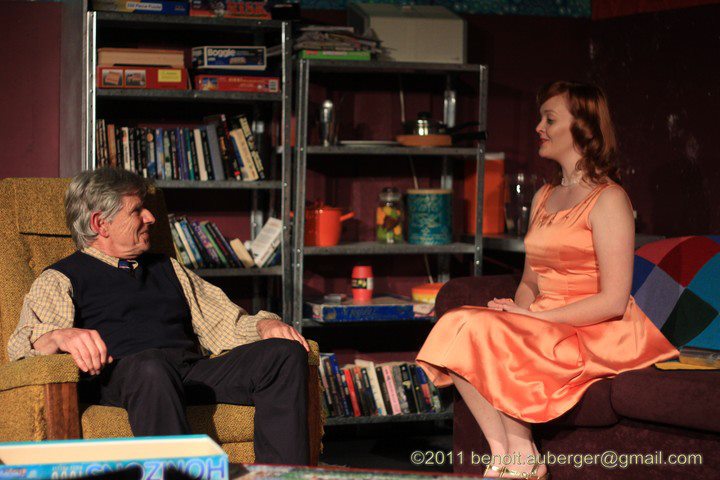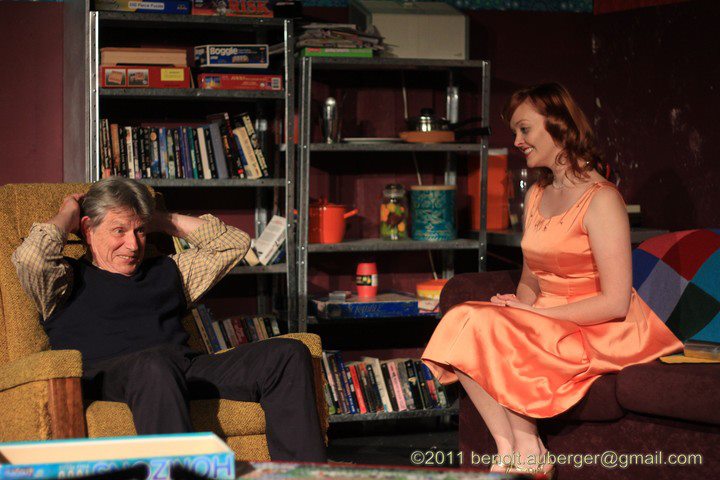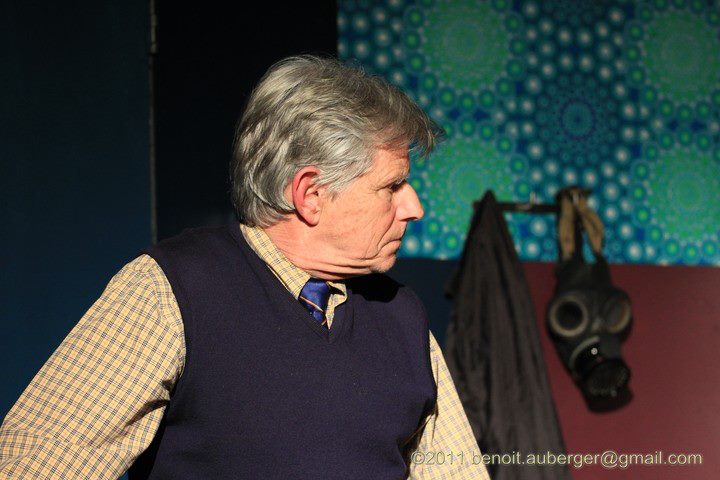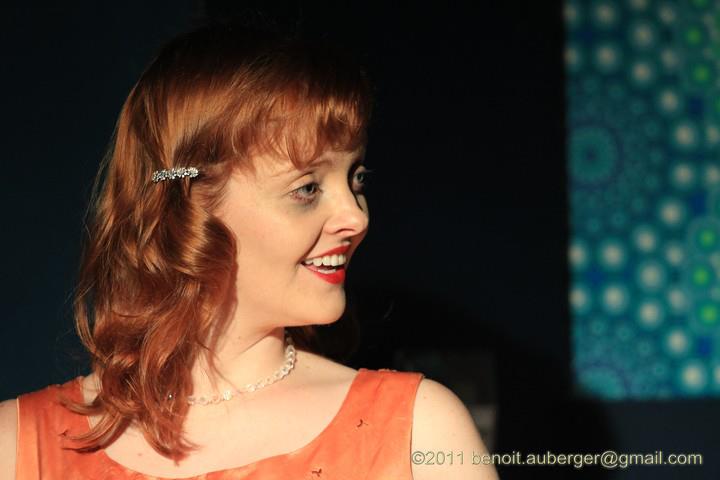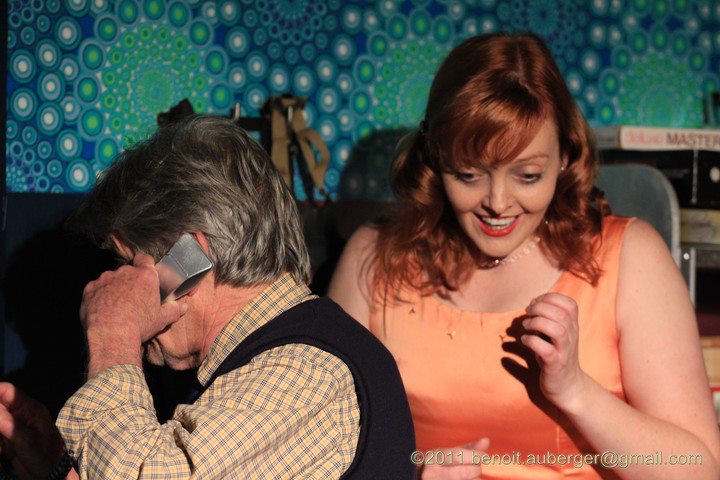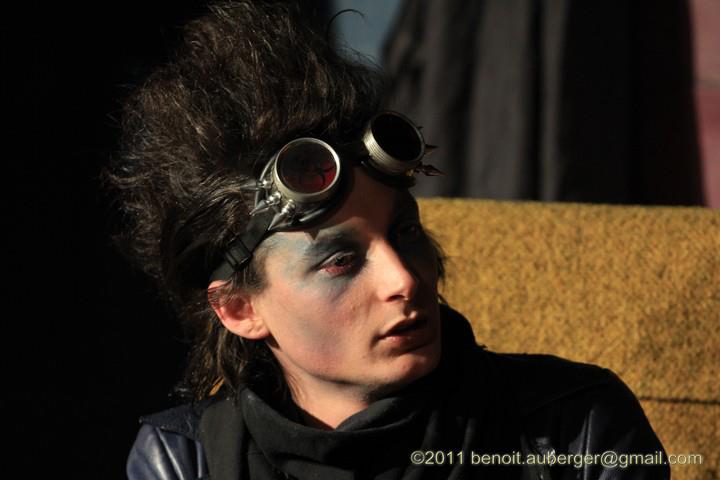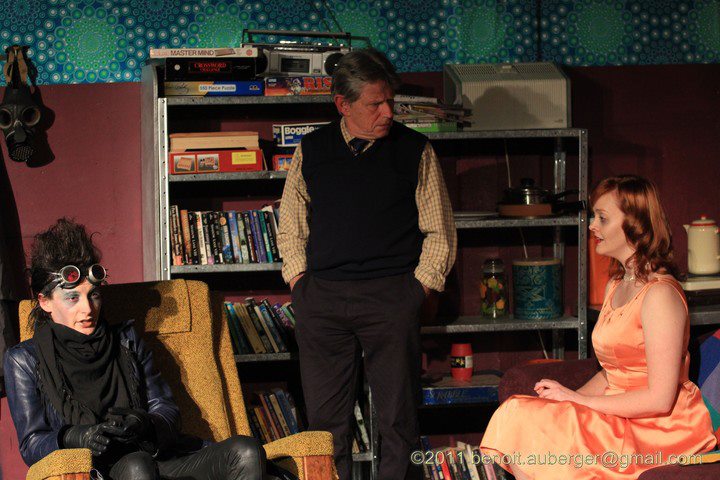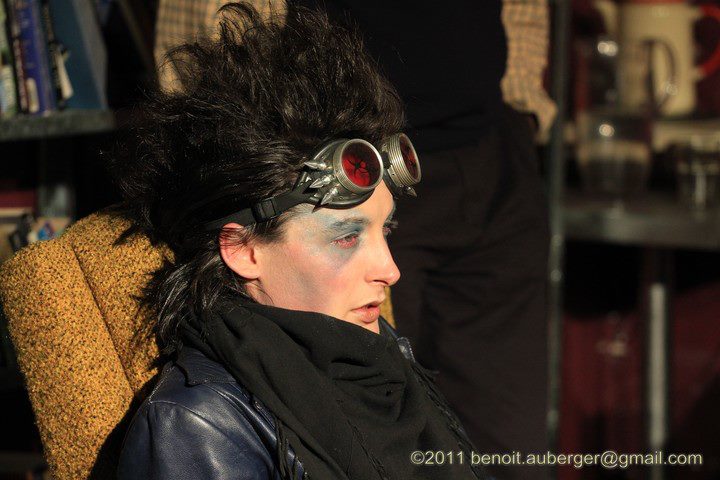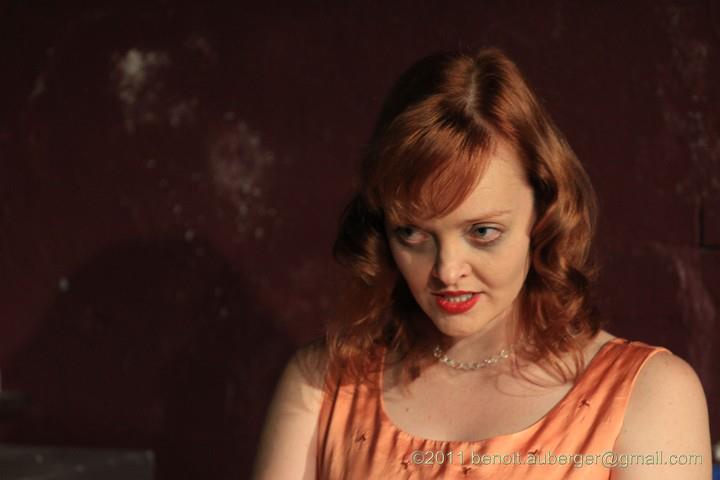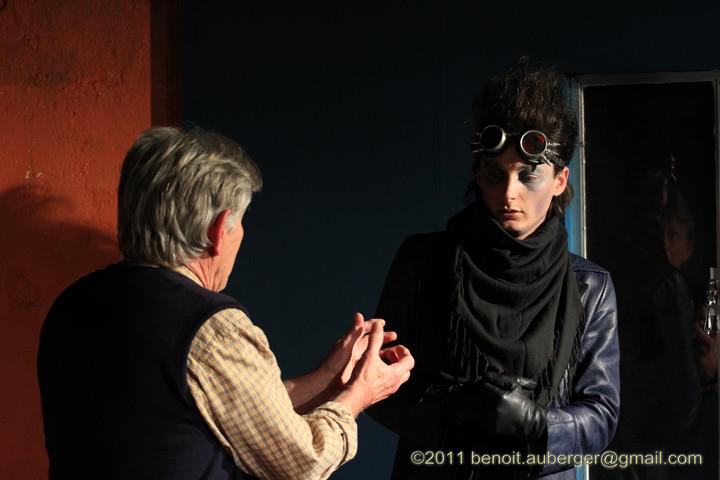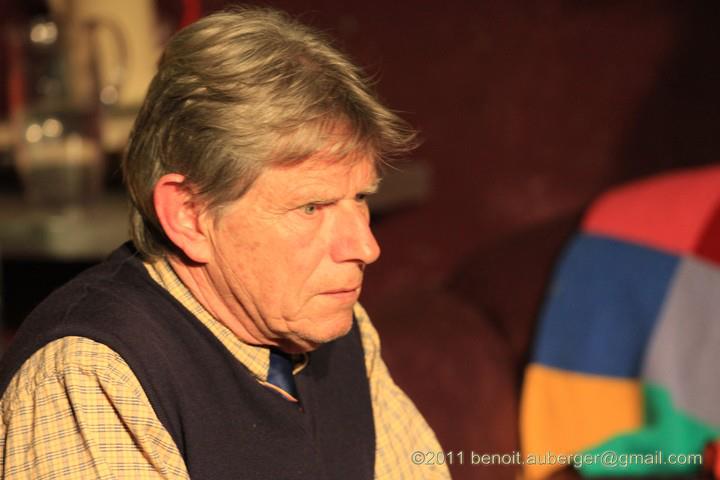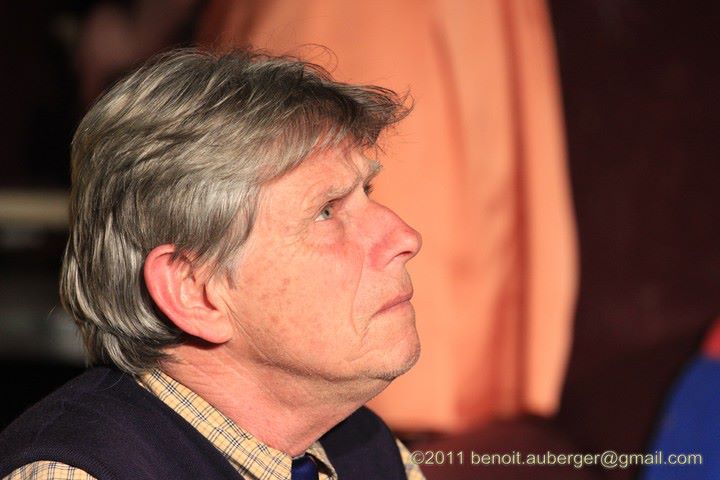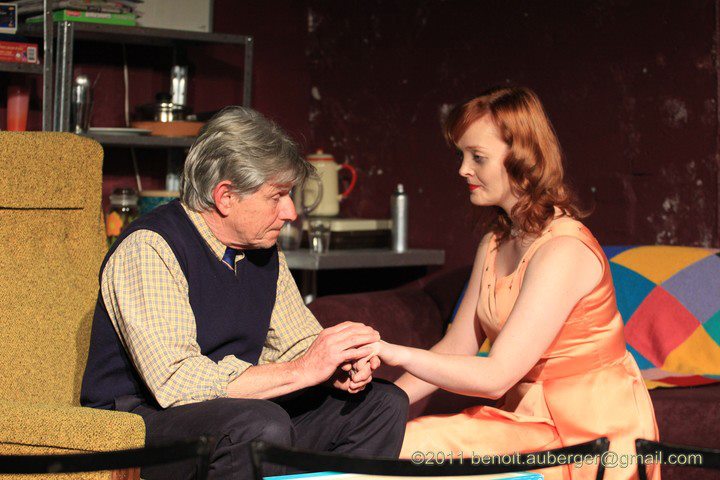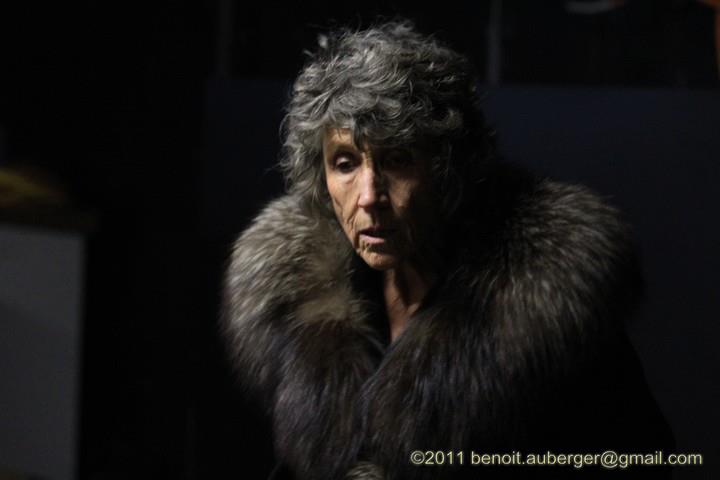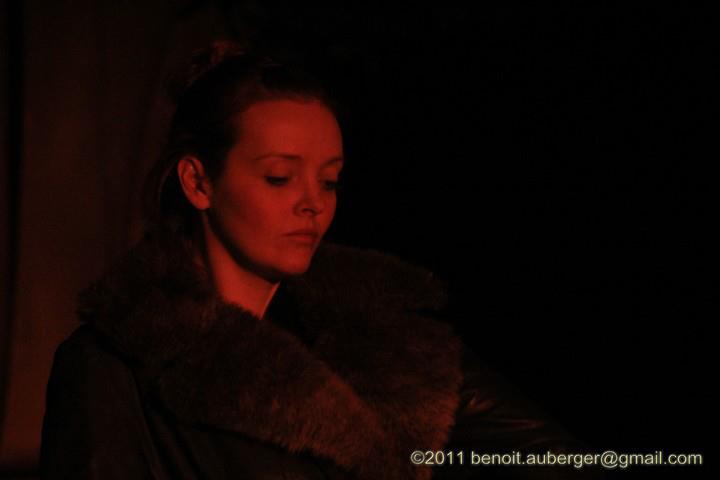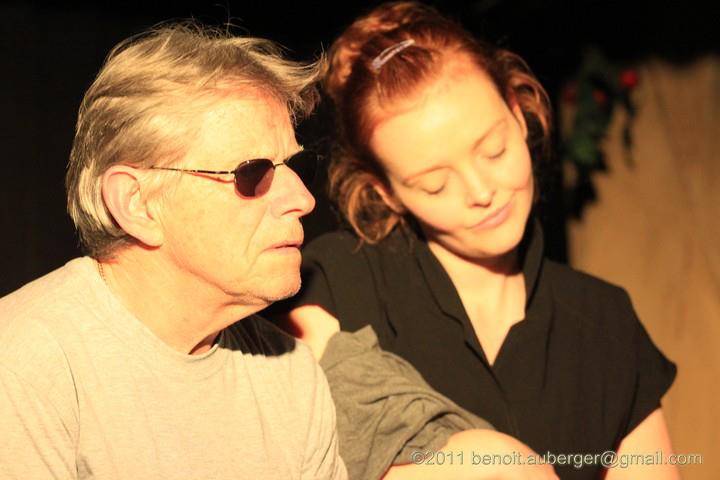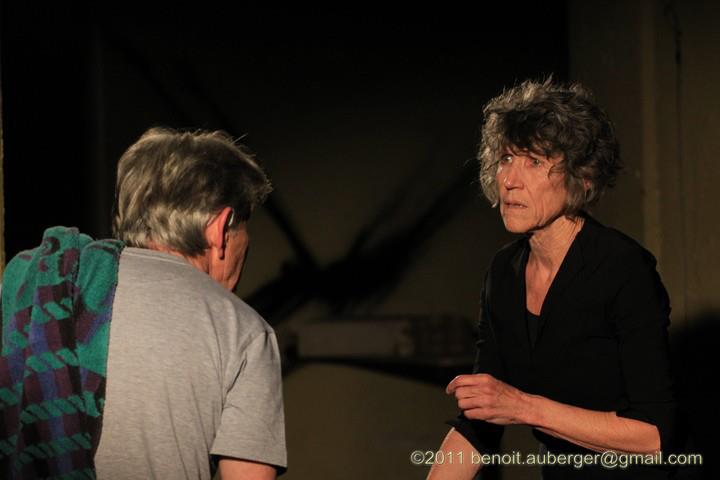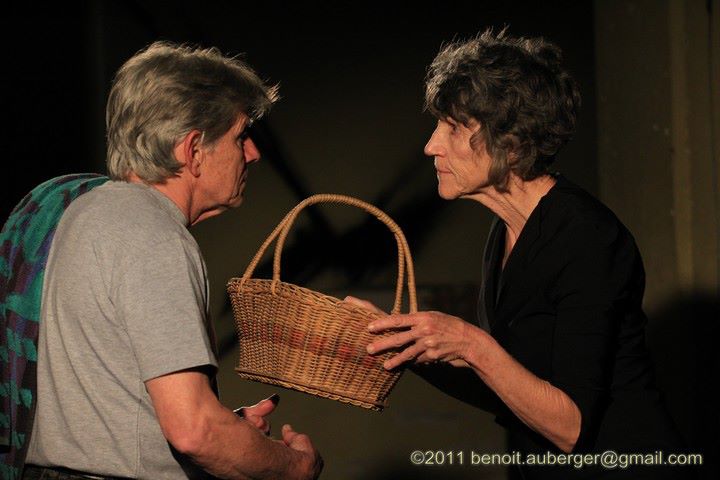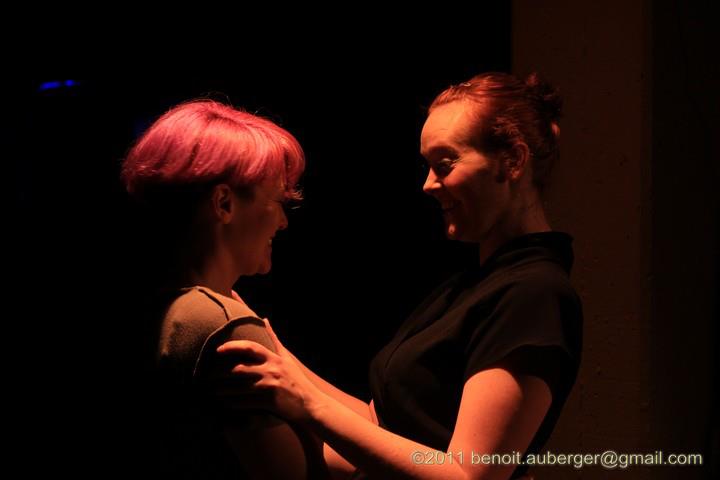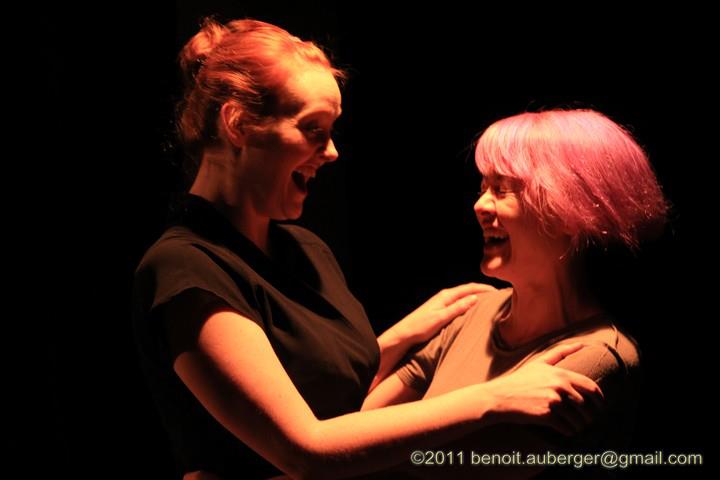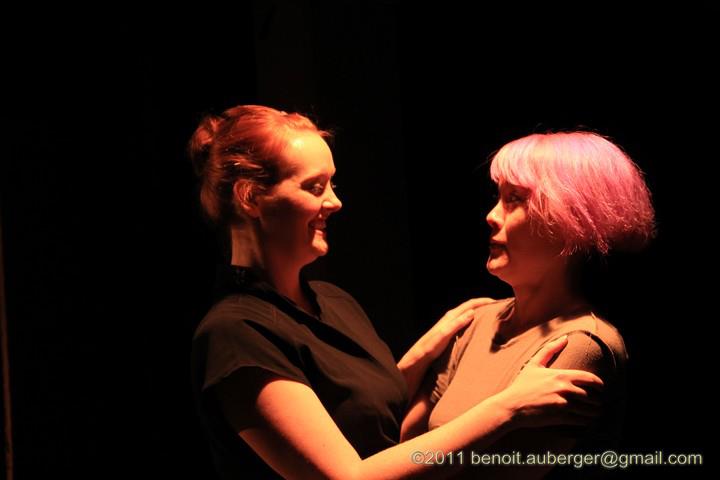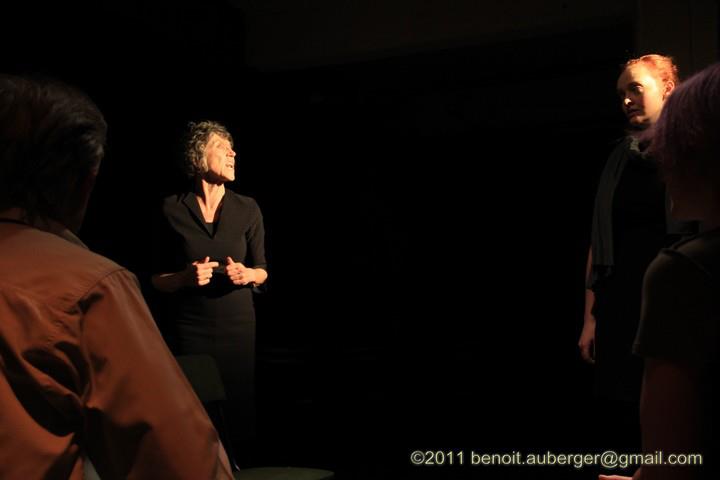 REVIEWS
seven jewish children
not not not not not enough oxygen
Rob De Kok, 15 September 2011
InDaily
Who invented Caryl Churchill? More to the point, who decided that Not Not Not Not Not Enough Exygen - a 40 year old play about a decaying London - is still a suitable vehicle for examining the chaos in which that city, this world, finds itself today? Perhaps the genius is shared; a great play, an inspired choice.
Sounds of the London riots are all too familiar as we enter the bedsit of Mike and Vivian (Roger Newcombe and a prodigious Amy Victoria Brooks). The set (the climate) is quasi-1984, with Children of Men overtones - something has gone dreadfully wrong in the Mother Country. A gas mask leers ominously on the back wall. Oxygen is needed, literally, to keep the conversation going; the window shut, the outside shunned, fearful, full of "fanatics" - faceless "others" who wish "to kill themselves or us".
Mike awaits the arrival of his son, Claude, a rock idol of Bowie status. So unwinds the plot; the wait, the arrival, the reveal, the awful trail of words granting us a glimpse at how we lose and pass each other in an atmosphere of fear. The state-induced fear is palpable, the personal fear familiar; it is the real lesson in this modest masterpiece.
Performances are flawless, as is the direction by Dee Easton. And an at times too jocular (too familiar?) audience was won over by the pathos of father and distant son, the weight of the unsaid and the plight of a mismatched couple battling the doubt and dread in themselves and each other.
In sub-titling Seven Jewish Children "A Play For Gaza", Caryl Churchill is not mincing words. This pice, written as The Wall was being built, is a snarling political animal. But, in this marvellous subtle production directed by Charles Sanders, the core of the play's concept is presented in a way which at first belies its simple, engaging conceit. We share a basement with six characters as they sculpt atrocity into acceptable language, into digestible lies for some universal, absent child. The lines (the gentle lies) matter most here - in fact, Churchill's text doesn't even delineate specific characters.
But, as Sanders' characters move through 60 years in front of our eyes, as they gain power and hubris, the frightening realisation is that, while the language remains the same, so does the inhumanity embedded within it. Only once is a voice raised (a chilling mono by Chrissie Page), opening an ugly chink in the wall of cool, familial appeasement - an appeasement which allows all state/religeous violence to continue. A short and stunning work.
Take those steps down - a compact, biting and near-perfect night of theatre. Bravo, Early Worx!
SEVEN JEWISH CHILDREN
NOT NOT NOT NOT NOT ENOUGH OXYGEN
Madeline Bradford-Becker, 5 Oct 2011
dB Magazine
The latest production by Early Worx and Higher Ground is a double bill of works by English playwright Caryl Churchill.
'Not Not Not Not Not Enough Oxygen' was first performed as a radio play in 1971, and written as a dark vision of the future. In a one-room flat an ageing couple eagerly awaits the arrival of the man's son who has become a famous actor. However when the young man arrives it becomes apparent that he has become embroiled in the dangers of the outside world and can offer the older people no hope. Like most futuristic art, the play does not predict anything positive for the future, instead presenting a world of fear, terrorism, environmental decay and dangerous fanaticism. The characters live in such a confined space they are stuttering and literally gasping for breath. Then again, given that the story is set around now, has Churchill shot too wide of the mark?
After a brief break the show continues with Churchill's short play 'Seven Jewish Children: A Play For Gaza'. Also a play for voices, 'Seven Jewish Children...' is a family dialogue of what to tell their baby about Israel as she grows up. In fifteen minutes, the play encapsulates the diverse arguments of the Israel/Palestine conflict and pinpoints the complexity of the situation.
Higher Ground is the perfect venue for the performance; both plays are about characters dealing with eerie, politically claustrophobic environments, and the basement makes a brilliant set for both pieces. The actors all give skillful compelling performances, especially Amy Victoria Brooks, Roger Newcombe and Charles Sanders who sports a truly fabulous hairdo.
Early Worx has made a wonderful contribution to the Adelaide arts scene with this production. Although Churchill has a reputation for being controversial, she seems to feel no need to use empty shock tactics in these two plays, as many so-called controversial artists often do. Instead, her writing is emotional, truthful and refreshingly sincere, as all good writing should be if it is to be influential.
Seven Jewish Children: A Play for Gaza,
and Not Not Not Not Not Enough Oxygen
BY BARRY LENNY ON SEPTEMBER 16, 2011
Glam Adelaide
This is a double bill, with both works written by British playwright, Caryl Churchill. The evening began with Not Not Not Not Not Enough Oxygen, originally written as a radio play in 1971 and set in a one room apartment in a tower block in 'The Londons' in the year 2010. Water is in short supply, the air is foul, the smog has killed almost all of the flora and fauna, and what remains if facing extinction. Oxygen is in short supply and, like the water, the supply to residences if limited, unless people can afford to purchase more than their allowance. Roaming gangs of youths set fire to buildings and 'fanatics' kill themselves and others. A license is needed to have a child, and these come either from a lottery, or by purchase. A second child is illegal. All natural resources are running out and life of all sorts is threatened.
Churchill's predictions are not so far from what has happened around the world since 1971. China instituted child control, killing girls in preference to boys and limiting parents to one child. Japan is terribly polluted and overpopulated. The Middle East is in turmoil. Refugees and illegal immigrants are seeking new homes. We are all too aware of the recent rioting, looting and destruction of property in England. Global warming is causing problems world wide. Oil, natural gas, old growth forests and other natural resources cannot be replenished, and will eventually run out. There is corruption at all levels of government, right down to the caretaker of their block. Churchill foreshadowed so much of what we see happening around us now.
As the play begins we discover Mick and Vivian, sitting watching the television. We hear the announcer reporting on chaos and destruction. Mick is 60 and resigned to accepting the world as it is. He is romantically involved with the much younger Vivian, who tells us that she is 30 but believes that she looks younger. She is married, but only stays with her husband so that she has a place to live.
Vivian begins a conversation, in a staccato, broken and repetitive string of words and phrases; almost a verbal shorthand. Oddly, director, Dea Easton, has chosen to ignore the fact that breathing is extremely difficult because the oxygen supply to each flat is insufficient, and so Amy Victoria Brooks delivers her dialogue without all of the gasps for breath that is the intended root cause of Vivian's fragmented dialogue. This also tends to negate the reason for the small spray can of oxygen that she freely administers throughout the play. The reason for this directorial decision is unclear.
That aside, Amy Victoria Brooks and Roger Newcombe offer some superb characterisations and develop a fine rapport in depicting the fragile relationship that exists between Mick and Vivian. These are rich performances that convince and draw the audience into their claustrophobic world.
They are waiting for a visit from the famous Claude Acton, Mick's successful and rich son, one of the last children to be born in 'The Londons'. Mick is expecting Claude to provide him with the money to buy a cottage in the park, where he and Vivian can go to live what they believe will be a more comfortable life. Claude's visit, however, does not go the way that Mick expected. Charles Sanders has a haunted look as Claude, showing us somebody who appears to have lost all incentive and can see nothing worthwhile in the future. The change in the dynamics between Mick and Vivian at his arrival and his news is handled with great sensitivity by Brooks and Newcombe, with Sanders's excellent interpretation of the role of Claude providing just the right catalyst for what follows. These three performances are beautifully balanced and help paint a frightening picture of Churchill's view of what was the, in 1971, the future.
After a short interval, to reset the theatre, came Seven Jewish Children: A Play for Gaza, premièred in 2009. Director, Charles Sanders, has set this almost in the round, bringing all of the audience into close proximity to the performers, who not only work within the central space but beside and behind the audience to further accent that feeling of being a part of the action.
This work has been surrounded by controversy, branded immediately as anti-Semitic, a claim fuelled by the fact that Churchill is a patron of the Palestinian Solidarity Campaign. Countering this, some prominent Jewish people, such as the actress Miriam Margolies, have argued otherwise. It was written as a response to the 2008-9 Israeli military strikes on Gaza and the play is available free to anybody who wishes to stage it as long as patrons are requested to make a donation to Medical Aid for Palestinians. Playwright, Israel Horovitz, wrote a play in response to this work, entitled What Strong Fences Make. What an interesting programme a pairing of both plays would make. Other responses that members of the audiences might want to read after seeing this though provoking production are the plays, Seven Palestinian Children, The Eighth Child and Seven Other Children. No doubt many saw the fine production of My Name is Rachel Corrie that was presented in Adelaide recently.
Not wanting to become embroiled in this controversy, which would require a lot of time and space analysing and evaluating this play, I will focus purely on the performance and leave the analytical and emotional responses to the audiences.
The play begins with a child, Jeanquille Kumar, sitting alone. She rises and leaves the venue, a darkened cellar with small patches of dim lighting. The voices begin. The play is written simply as a series of lines, leaving the director to decide how many performers to use and who is given which line. Most lines begin with the words "Tell her…." or "Don't tell her….". It covers 70 years, from the holocaust to today, including somebody leaving their home in the west and being confronted by anything but the Jewish ancestral homeland that they expected when they arrive in Jerusalem.
The cast, Amy Victoria Brooks, Dea Easton, Roger Newcombe and Chrissie Page, are a marvellous ensemble, each seeming to set up for the following line to progressively build the impact and discomfort of the ideas expounded. The climax is a stunning monologue from Chrissie Page that carries enormous weight, aided by this progressive string of carefully crafted sentences delivered with great understanding by the performers. Sander's direction is impeccable.
In seemingly discussing what one does, or does not tell a child, this play actually addresses a huge range of topics, including prejudice, hatred, violence and, in dealing with the child, indoctrination, passing on the attitudes of the parents and perpetuating the problems facing the world today.
This is a magnificent piece of theatre and definitely should not be missed, but hurry to book as seating is limited and the production closes on Sunday.
seven jewish children &
not not not not not enough oxygen
Peter Burdon, 14 Sept 2011
Kryztoff Raw
Rathing: 4K
English dramatist, Caryl Churchill's works span any number of controversial issues from politics to sex and religion. Early Worx at Higher Ground are producing two in a season that lasts til just Sunday evening.
Not Not Not Not Not Enough Oxygen was written in 1970 as a radio play and depicts the world in the present time, a place of small square apartments, an absence of birds and fresh air, where parks and nature are a novelty and angry, nihilistic youths roam setting fire to things.
This production by Dee Easton successfully conveys the claustrophobic world of an anxious, ageing father (Roger Newcombe) and the naive, tense and prissy woman he shares his flat with (Amy Brooks) as they await his media personality son's (Charles Sanders) arrival – a presence not enjoyed for five years and which promises a new world.
It is easy to dismiss the predictions of the world of now created forty years ago as whimsical or in part lucky or obvious guesses with much got wrong that tears away the potential of the story. The debate had in the play about the cost of getting licenses for second children and the plight of those who seek to have such children without state permission can seemingly be easily dismissed.
Yet, looking around the world as now know it, so much of what Churchill has predicted has either come to be or is threatening to do so. The most recent somewhat pointless London riots, the scourge of refugees looking for a home and even the local debate about extending the right to end life all loom as examples of where debate is now being held, a far cry from the mores that would have dictated outcomes on similar issues in the 1970s.
The Early Worx team do a great job to create a space that leaves you worried, with both Newcombe and Brooks in fine form.
After the break, Charles Sanders directs the more controversial 2009 play Seven Jewish Children where a family frets over what to say and how to explain to their child/grandchild/sister the world they inhabit in Gaza. Through being told in the personal perspective, especially to an innocent, of the contradictions, hopes and horrors of life in these contested lands, some heavy messages are conveyed successfully.
Sanders has worked wonders with the space, ably assisted by Chris Donoghue's lighting with the whole adding to the tension and fragmentation of these lives under pressure. Chrissie's Page closing speech is a highlight.
This is as it should be – provocative theatre – without heavy over layering of directorial political bias.
Anyone interested in either topic, but particularly the Jewish issue should ensure they get along to Higher Ground during this season.